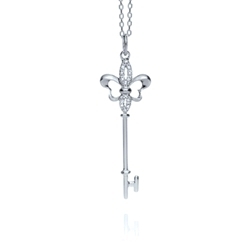 "Mann's Jewelers' goal this Valentine's Day is to make gift giving easy. And there's no better way to say 'I love you' this Valentine's Day than with the timeless gift of jewelry," said Sondra McFarlane, director of marketing at Mann's Jeweler
Rochester, NY (PRWEB) February 3, 2010
With Valentine's Day quickly approaching, Mann's Jewelers, upstate N.Y.'s leading jewelry store since 1922, offers some affordable, beautiful jewelry ideas that are sure to express your love better than any other gift. Mann's Jewelers' online Valentine's Day gift guide offers fine jewelry at a great value starting at $15, with many pieces under $200.
"Mann's Jewelers' goal this Valentine's Day is to make gift giving easy. And there's no better way to say 'I love you' this Valentine's Day than with the timeless gift of jewelry," said Sondra McFarlane, director of marketing at Mann's Jewelers. "Diamonds, gems and pearls are great options and we offer them in both traditional as well as hip new designs to appeal to everyone's style." McFarlane offers the following Valentine's Day suggestions:

Give the keys to love: Themed pieces such as key necklaces symbolize the special place someone has in their loved one's heart. Sterling silver designs start at just $30. Or, consider diamond-laced versions to add that extra zing to a gift.
Give her your heart: Heart-shaped pendants by Dana David , a classy John Hardy sterling silver heart dangle bracelet or stylish cable bracelets laden with silver hearts all symbolize the strength and bonds of love.
Every girl needs pearls: Contemporary twists to the timeless classic of pearls include fun, colored freshwater pearl bracelets starting at just $15 and other designs featuring diamond or sterling charms that start at just $30. For those who wish to be more extravagant, Mikimoto offers cultured pearl sets in 18K gold that she will covet forever.
Solid as a rock: Snappy and sexy red garnet studs, a rocker-chic Stephen Webster ring in sugalite or MJ Collection Fiesta necklaces adorned with amethyst will make her eyes sparkle and her heart sing.
The ring, please: Gorgeous diamond engagement settings are available starting at $495 and Alex Sepkus "Forever" rings laced with diamonds and gems in gold let her know the timelessness of love.
"With just a short time left before the holiday, consider shopping on line," added McFarlane. "It offers convenience and affordability which are priceless for the last minute shopper."
For more information, visit mannsjewelers.com or call 1-800-828-6234 or 585-271-4000.
About Mann's Jewelers:
Family-owned for nine generations, Mann's Jewelers has been in business since 1922. Located at 2945 Monroe Avenue in Pittsford, N.Y., Mann's Jewelers offers the world's most coveted brands, specialized heirloom restoration and custom design, extensively trained on-site jewelry and watch repair experts and the most comprehensive diamond and watch warranties. Known for its extraordinary level of service, it offers jewelry to meet every style and budget, including its own exclusive MJ Collection. For more information, visit mannsjewelers.com or call 1-800-828-6234 or 585-271-4000.
###