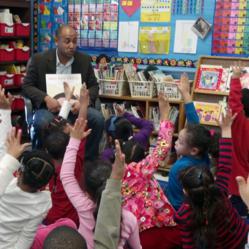 Manoj Abraham reading to the kids of Bryant Elementary School in Teaneck, NJ.
HASKELL, NJ (PRWEB) February 28, 2013
For nearly 20 years, Manoj S. Abraham worked in the fast-paced world of Information Technology. As a Product Manager in the field, he enjoyed a successful career bringing to life Internet applications for both businesses and consumers. However, the birth of his first child in the summer of 2011 set him on a new career path: children's book author.
"Becoming a father changed the way I saw my life," said the New Jersey native. "Watching my son experience the world for the first time reminded me of how important it is to pursue your passions in life. My passion is writing."
Manoj started his blog, 'Surfacing', in the spring of 2012. Initially a collection of anecdotes about fatherhood and poetry, the blog was met with good reviews and built up a small but loyal following of readers. Published on the blog, his poem 'Precious Treasures' – written in light of the tragedy at Sandy Hook Elementary School in Newtown, Connecticut – gained widespread attention on Facebook and Twitter. The success of the blog encouraged Manoj to try his hand at a different type of writing – one that was even closer to his heart.
"Sitting on the train riding into New York City each morning for work, I found myself thinking a lot about my son and the future. I see a lot of young people today who don't seem to have their priorities right, and I don't think it's their fault. So I thought about how I could help shape my son into being a good person above all else," Manoj said. "Seeing how much my son enjoyed being read to by my wife, I thought I would try to write a children's book that conveyed some old-fashioned values that I don't think kids get enough of today."
After weeks of writing small portions of the book during his train rides to New York City and working with Michigan-based artist Sherrie Molitor on the illustrations, Manoj utilized his knowledge of HTML and graphic design to self-publish "Sam's Three What-Ifs" in December of 2012 on Apple's iBookstore as an eBook. To his amazement, the book began to quickly rise in popularity and visibility on the store. It rose swiftly on the list of Featured New Releases in the Children's Books category. By the end of January 2013, the book was included in Apple's Beautiful Kids' Books promotion as one of their Favorite New Releases. By February, the book was listed as one of the top 5 favorite titles in the Learning To Read category of the same promotion, and even started to appear on the store's bestseller list.
"The response I got from parents and children to the book was overwhelming. I could not believe how many parents and children were captivated by a book about simple values like honesty, kindness and compassion," he said.
Manoj followed up the iBookstore release with a release of the book for the Amazon Kindle.
ChaiMommas.com – a blog geared towards mothers – recently reviewed the book on their website and stated, "…the inspiring pictures and words of this book allow children to feel connected to Sam and his inquisitive mind, and therefore allowing his learnings at the end of the book to really sink in."
The notoriety of the book also led Manoj to doing the first public reading of the book on Valentine's Day at the elementary school he attended as a child – Bryant Elementary School in Teaneck, New Jersey. He read to 6 different classes and a range of students, from Special Education, Pre-K and Kindergarten. Reactions to the book by teachers and students were overwhelmingly positive. Following the readings, Manoj donated an autographed copy of his book to the school library for students to enjoy and teachers to use in class. More info can be found on his website: manojabraham.com.
"I can't really put into words how much this means to me," said the 35 year old author on the day of the reading. "To come back to the school where I learned to read and write for the first reading of my first book is the epitome of life coming full circle."
Manoj says he draws inspiration from several contemporary children's book authors, such as Tad Hills, Nancy Tillman and Patrick McDonnell. While he enjoys writing children's books, he also continues to write poetry and short stories for adults on his blog. He is currently scheduling more free readings at local schools and events for children. Work has already begun on his second children's book which he plans to release later this year. Details and pre-release photos are shared on Manoj's Facebook Fan Page.