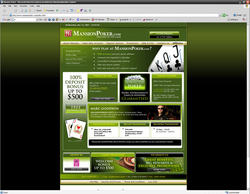 An enormous part of the MANSION brand's strength lies in its ability to evolve and meet the ever-changing needs and expectations of our growing international Membership. We remain focussed on providing our players with the ultimate player-friendly online gaming experience, at the same time as building for the future
Gibraltar (PRWEB) December 13, 2007
MANSION.com (http://www.mansion.com) announces the launch of a dynamic new portal design that introduces two distinct microsites, MANSIONCASINO.COM (http://www.mansioncasino.com) and MANSIONPOKER.COM (http://mansionpoker.com), dedicated to delivering quality online Casino and Poker gaming entertainment, and designed with the player foremost in mind.
The redesign allows Members to move effortlessly from the MANSION.com gateway directly to their games of choice on MANSIONCASINO.COM and MANSIONPOKER.COM where players are never more than a quick click away from enjoying the best in online Casino and Poker.
"An enormous part of the MANSION brand's strength lies in its ability to evolve and meet the ever-changing needs and expectations of our growing international Membership. We remain focussed on providing our players with the ultimate player-friendly online gaming experience, at the same time as building for the future," says MANSION Group CEO Guy Gussarsky.
The revamped website has accomplished an improved navigation and uniformity to ensure the web pages work in intuitive ways. Most notably, a unique all new Casino Lobby further enhances the player's ability to select their game of choice with ease, be it Tables, Cards or Slots, Download or Instant Play.
A new Cashier design facilitates faster player deposit and withdrawal options that are equally safe and secure, making it more straightforward to get in the game, and to play and bet online without delay or worry.
A shift to a cleaner, bolder colour palette -- blue for MANSION.com (http://www.mansion.com), red for MANSIONCASINO.COM (http://www.mansioncasino.com) , and green for MANSIONPOKER.COM (http://www.mansionpoker.com) -- creates a bright ambiance that Members will warm to, incorporating superior graphics and user-friendly features for a more relaxing, pleasurable and rewarding online gaming experience.
Discover two new frontiers on the e-gaming landscape MANSIONCASINO.COM and MANSIONPOKER.COM to take advantage of the same add-to-player-value philosophy and exceptional quality promotions that MANSION.com is renowned for.
The new look microsites completes a six month renaissance phase for MANSION.com, following successful migrations of MANSION Casino to the Playtech platform and of MANSION Poker to the Ongame Network.
For additional media information, please contact:
Kathryn Farrell Communications Manager
Tel: 350 792 62
Mob: 44 7912 895 804
Email: kathryn.farrell(at)mansion.com
###