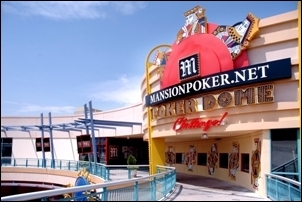 If Holyfield feels he can call this one, he is sadly mistaken
Gibraltar (PRWEB) August 18, 2006
When Four-time World Heavyweight Champion, Evander Holyfield (38-8-2) steps into the ring to meet Jeremy Bates (21-11-1), in his quest for a history making fifth heavyweight title, MANSIONPOKER.NET will be there.
MANSIONPOKER.NET's sponsorship of the fight will mark the on-line free play poker site's first foray into the action-packed world of boxing. When the 43-year-old pride of Atlanta goes fist to fist up against veteran Bates, the MANSIONPOKER.NET logo will be prominent on all four sides of the canvas and the corner pads behind each of the two prize fighters during their August 18 clash.
"Our continued exploration of sports sponsorships demonstrates our respect for the sporting ideal, and we understand that poker players are by their nature equally fanatical about sports of all sorts," said Chief Operating Officer for MANSIONPOKER.NET David Kinsman.
"We are proud to be associated with top competitors by sponsoring prestigious events around the globe, and the significant Holyfield first fight back from injury is anticipated to be the ultimate display of dedication, experience, skill and performance," added Kinsman.
MANSIONPOKER.NET has been quick to recognize the added-value promotional exposure of being associated with the Holyfield v Bates clash, a world class televised sporting spectacular that is guaranteed to generate significant public attention and worldwide media coverage.
The Holyfield vs. Bates ten round non-title bout will headline a seven-bout card which Fox Sports Net will telecast live from the American Airlines Center in Dallas, Texas on Friday, August 18 at 10:30 PM EST/7:30 PM PST with veteran announcer Barry Tompkins and analyst Rich Marotta ringside, and Sean O'Grady providing post-fight interviews.
For Holyfield, the bout with Bates will be his first ring appearance in 21 months, and the first in a series of fights to regain the heavyweight title.
"I'm really excited to finally get back in the ring healthy and ready to fight," said Holyfield.
"After three disappointing fights with a nagging shoulder injury, I took time to let my body heal and with proper training I am now 100% and ready to go".
Bates is expected to prove a formidable opponent, and as he prepares for what is shaping up to be the fight of his career, his manager Jerry Thomas is quick to upsell his protégé.
"Jeremy is a much focused fighter and a hard punching journeyman", said Thomas.
"If Holyfield feels he can call this one, he is sadly mistaken," added Thomas.
Holyfield has already made boxing history by becoming the only four-time World Heavyweight Champion, defeating 15 World Heavyweight Champions along the way, including Mike Tyson, Larry Holmes, George Foreman, Riddick Bowe, and besting the previous record of Muhammad Ali, the only three-time World Heavyweight Champion.
"I've had a great career and the book is almost written," said Holyfield.
"But we have one final chapter where I win the World Heavyweight Championship for the fifth time. And on August 19th in Dallas, the Final Chapter begins."
Holyfield is the embodiment of heart, courage and the pursuit of success. The free-play online poker site reflects these ideals with the introduction of the innovative MANSIONPOKER.NET Poker Dome, the world's first interactive poker studio.
The MANSIONPOKER.NET Poker Dome Challenge is affording amateur players a shot at poker "celebrity" via free-roll qualifier events to take aim at a $1,000,000 winner-take-all first prize. Winners of the online qualifiers are flown all expenses paid to Las Vegas to live their poker dream and participate in the 43-week televised tournament series. The hottest poker show to hit the airwaves is quickly turning the game into a spectator sport, with the studio audience enjoying all the action as it unfolds live, without jeopardizing the integrity of the game via a unique soundproof, one-way glass.
The Poker Dome series is now played and filmed in its permanent location in the newest tourist hotspot, Downtown Las Vegas at the intersection of Fremont Street and Las Vegas Boulevard. The land-based MANSIONPOKER.NET Poker Dome Challenge champions the spirit of competition, and celebrates the determination to be the best.
Welcome to the Game
Want to be a part of the Poker Dome studio audience in Las Vegas?
For ticket information please go to http://www.tvtickets.com
About MANSIONPOKER.NET
MANSIONPOKER.NET is headquartered in Gibraltar and has been focused on establishing itself as a leading brand in free online poker. The company is funded by private equity investors who share a passion for the thrill of games of skill and who see the potential of the Internet to provide a forum for players from all over the world to compete. Through the MANSIONPOKER.NET portal, the company provides a community for poker players to develop their skills and compete in a challenging environment amongst players of all levels. MANSIONPOKER.NET provides a fun and challenging free site for players to hone their strategy and work their way up to televised tournaments, such as the MANSIONPOKER.NET POKER DOME CHALLENGE where tomorrow's new poker celebrities are created.
###