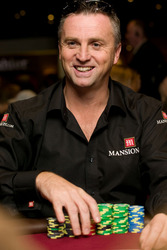 Poker players are the most loyal customers in the gaming business, and what our players put in, we want to give back in return
Gibraltar (PRWEB) January 26, 2008
MANSIONPOKER.COM (http://www.mansionpoker.com ) has launched a VIP Loyalty Club designed to reward those who enjoy MansionPoker.com as their online Poker site of choice.
MANSIONPOKER.COM's VIP Loyalty Club is a player points system pledging great benefits and even more prizes, exclusive promotions, and special VIP rewards, including regular Freeroll tournament entries for Members who qualify.
"Poker players are the most loyal customers in the gaming business, and what our players put in, we want to give back in return," says MANSIONPOKER.COM Ambassador Marc Goodwin.
"It's our way of thanking ALL our players for choosing MANSION Poker as their preferred online Poker site," adds Goodwin.
Every cash game and tournament a MANSION Member takes part in will earn them VPP (VIP Poker Points) which are calculated monthly and grade a player in to one of 5 VIP classes - Green, Silver, Gold, Platinum or Black.
All new players at MANSIONPOKER.COM automatically become VIP Loyalty Club Members from the moment they play their first real money poker hand, entering at the basic Green VIP Level.
The good news is, Green VIP players can upgrade to one of the four higher prestige VIP Levels simply by playing more Real Money Poker at MANSIONPOKER.COM to earn more VPP.
Weekly statements will confirm current VIP status and show how easy it is to graduate to the next VIP Level. Each player's VPP total also determines which special 'Bonus Boost' applies.
The Bonus Boost is the percentage by which a player's total VPP will be increased at the end of each month - it's MANSIONPOKER.COM's way of helping Members power up the VIP ranks, and ultimately to reach Black VIP status sooner, for bigger and better rewards.
Players can swap their VPP for purchase power in the upcoming MANSION VIP Loyalty Club Shop, where they will discover a variety of must-have items on offer, including MANSION branded poker paraphernalia, state of the art electronic goods, and entries into world class offline events.
Whether it is better value or more rewards you're after, the MANSIONPOKER.COM VIP Loyalty Club delivers in spades.
Visit MANSIONPOKER.COM (http://www.mansionpoker.com/promotions/VIP-Loyalty-Club/index.html) for full details and Ts & C's.
ABOUT MANSIONPOKER.com
MANSIONPOKER.com is headquartered in Gibraltar and is focused on establishing itself as a leading brand in online Poker. The company is funded by private equity investors who share a passion for the thrill of games of skill and a vision to provide customers worldwide with premium gaming entertainment.
Through the Mansion Poker portal, Members can compete with 35,000 concurrent players at peak times, and participate in frequent guaranteed tournaments with some of the most exceptional player value to be found online.
Substantial brand awareness has been generated through a key partnership with the English Premier League's Tottenham Hotspur Football Club, via the now completed innovative Las Vegas-based televised tournament series, the MANSIONPOKER Poker Dome Challenge, and sponsorship of UK poker professional Marc Goodwin.
Find out more about MANSIONPOKER.com at http://www.mansionpoker.com
For additional media information, please contact:
Kathryn Farrell Communications Manager - MANSION (Gibraltar) Limited
Tel: +350 792 62
Mob: +44 7912 895 804
Email: kathryn.farrell(at)mansion.com
###