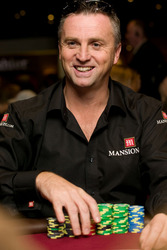 What's better than a good game of cards amongst your mates to settle a score? This is a great addition to the MANSION Poker site, so get some friends together and give it a go
Gibraltar (PRWEB) December 8, 2007
Poker players who have ever wanted to be their own Tournament Director will find the innovative 'Create Your Own Tournaments' option at MANSION.com (http://www.mansion.com) absolutely irresistible.
MANSION Members can now invite their friends, family and colleagues to play in their own customised tournaments, making key decisions about tournament buy-ins, game types, blinds structures and payout schedules.
At MANSION.com (http://www.mansion.com) select a start time to suit, choose your Game and Limit type, nominate your buy-in amount from as little as $5+0.50 up to $500+ 25 and you're half way to structuring your very own made-to-order online Poker event.
"What's better than a good game of cards amongst your mates to settle a score? This is a great addition to the MANSION Poker site, so get some friends together and give it a go," says Marc Goodwin, MANSION Poker Ambassador and well-known UK Poker professional.
"If you have between two and fifty players who are keen to play it YOUR way, then Create Your Own Tournaments at MANSION.com is for you," adds Goodwin.
Find out who is the King of the Cards with MANSION Poker's Create Your Own Tournaments or teach novice players first hand why millions of players worldwide have switched on to the online game. Simply set up a low-limit buy-in tournament that allows 'newbies' the chance to test their skills and learn in a less intimidating environment.
With the unique Create Your Own Tournaments feature, players can set their own Blind structure, from Turbo to Normal or Slow, plus allocate the payouts any which way they wish, awarding the prize pool, be it 'winner takes all' or otherwise.
Don't forget -- it's your tournament, so you can please yourself. It takes only minutes to create your perfect Poker tournament at MANSION.com. It couldn't be easier.
*Choose the 'Private' Tab in the MANSION Poker tournament lobby and Click on the Create Tournament button to discover just how easy it is to tailor your personalised Poker event.
Visit MANSION.com (http://www.mansion.com) for full tournament details.
For additional media information, please contact:
Kathryn Farrell Communications Manager - MANSION (Gibraltar) Limited
Tel: +350 792 62
Mob: +44 7912 895 804
ABOUT MANSION.COM
MANSION.COM is headquartered in Gibraltar and is focused on establishing itself as a leading brand in online Casino, Poker and Sportsbook. The company is funded by private equity investors who share a passion for the thrill of games of skill and a vision to become the world's leading multi-platform betting product, providing customers worldwide with premium gaming entertainment.
MANSION Casino offers over 120 dynamic downloadable and Flash Casino games, including a selection of action-packed favourites and the most exciting slots around, all with superb graphics and true-to-life sound effects, plus take advantage of one of the best First Time Deposit bonuses in the industry with the new Download Casino - 100% up to US$500/£250/€375.
Through the MANSION Poker portal, Members can compete with 35,000 concurrent players at peak times, and participate in frequent guaranteed tournaments with some of the most exceptional player value to be found online.
Substantial brand awareness has been generated through a key partnership with the English Premier League's Tottenham Hotspur Football Club, via the now completed innovative Las Vegas-based televised tournament series, the MANSIONPOKER Poker Dome Challenge, and sponsorship of UK poker professional Marc Goodwin.
Further details about MANSION are available at http://www.mansion.com.
###