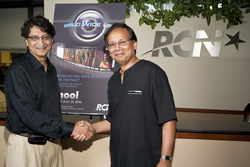 'Bhool,' which roughly translates to mean a mistake or misstep, is a tender drama about a woman trying to put her tragic past behind her
Herndon, VA (Vocus) July 29, 2009
RCN Corporation (NASDAQ: RCNI), a leading provider of digital and high definition video, high speed internet, and premium voice services to residential and small-medium business customers, as well as high-capacity transport services to carrier and large enterprise customers, announced today that it will launch its new "World Wide Lens" series on RCN Channel 8 on July 25 with "Bhool," a locally produced Pakistani-American film directed by Mansoor Ahmed, the project manager for NASA's Hubble Space Telescope Program.
"'Bhool,' which roughly translates to mean a mistake or misstep, is a tender drama about a woman trying to put her tragic past behind her," said the film's Director Mansoor Ahmed, who has many years of experience in various aspects of video production and serving as a technical director for a local Pakistani television program. "It is a sensitive portrayal of a woman's struggle to survive life's unexpected curveballs and the resilience of the human spirit. Although the story is set in the Pakistani community in America, the message and appeal is universal."
His passion for films can be traced back to his early childhood days in Peshawar, where he lived across the street from a cinema hall and became mesmerized by the world of film. The idea for making this film stemmed from the realization that the Pakistani film industry has continued to dwindle since the late 70s and has shown no signs of recovery. "Bhool" is roughly based on a short story, "Zamana Nazuk Hai" and the screenplay of the 60s classic Pakistani film, "Neend." Shaista Saleem wrote "Zamana Hazuk Hai" and resides in the local area.
The original concept for a remake came from Shaista Saleem and Muhammad Saleem, president of Lahore Foundation, an organization dedicated to promote education in remote areas of Pakistan, and who served as executive producer of the film. Together they wanted to retell this story in a more modern context, one that would appeal to today's audience.
"We are pleased to bring 'Bhool,' which is in the Urdu language with English subtitles, to our subscribers. It fits nicely with our goal of bringing a rich, diverse blend of choices of independent, international and local filmmaking," said RCN's Strategic External Affairs & Programming Senior Vice President Richard Ramlall. "This will be the first of many deserving independent films to be shown and it is fitting that the debut film has been produced locally."
The original music score is written for the film by Arthur Lovelace. He is a well-known and loved artist in his native Haiti and now in the Washington Metropolitan area. The music is a beautiful blend of East-West rhythms and arrangements. Originally from Port-au-Prince Haiti, Arthur is a former lead singer for ''L'ensemble Nemours Jean-Baptiste.'' He is also a song writer and composer. He sings in a few languages and performs a variety of genres of music. He has performed in many Caribbean countries and many cities in the United States with several Latin Bands. Locally, he has performed at the Smithsonian Institution, Capitol Hill and various clubs and restaurants.
The screenplay is written by Basharat Ahmad who has been writing Urdu plays for Pakistan Television Peshawar since 1990. Basharat has received a first place award for his play "Zohra" at the Independence Day Drama/Film Festival in 2003 and a nomination for Best Playwright for "Pakistan Express" at the National Drama Festival in 2001.
"Bhool" was filmed entirely in the Washington, D.C. area using experienced local Indian and Pakistani stage actors. With the advances and affordability of the digital technology the "Bhool" team was encouraged to take this bold step of demonstrating that a feature-length film can be produced on a small budget. Their hope is that professional artists in Pakistan will also be encouraged to showcase their talents and join together in reviving the Pakistani film industry.
"It is a very rewarding and creative experience to work with local filmmakers," said RCN's Senior Manager, Creative Services Melanie Smith. "We have created cross channel spots, in addition to several marketing pieces, to give this worthy film maximum exposure on our network. We're looking forward to bringing more independent films to the RCN platform."
About RCN Corporation
RCN Corporation (NASDAQ: RCNI), http://www.rcn.com , is a competitive broadband services provider delivering all-digital and high definition video, high-speed internet and premium voice services to residential and small-medium business customers under the brand names of RCN and RCN Business Services, respectively. In addition, through its RCN Metro Optical Networks business unit, RCN delivers fiber-based high-capacity data transport services to large commercial customers, primarily large enterprises and carriers, targeting the metropolitan central business districts in the company's geographic markets. RCN's primary service areas include Washington, D.C., Philadelphia, Lehigh Valley (PA), New York City, Boston and Chicago. (RCNI-G)
###