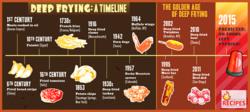 ManTestedRecipes is out to save the world from a fried-food famine!
Seattle, WA (PRWEB) July 26, 2011
Today, ManTestedRecipes.com, a Reader's Digest Association (RDA) brand and the only social site catering to the unique interests and preferences of male cooks, is calling attention to a growing problem in American cooking: The risk of running out of new foods to deep-fry.
ManTestedRecipes is issuing a general call to deep-frying enthusiasts the world over to submit their suggestions for new deep-fried creations and help rescue food lovers everywhere from a fried-food famine.
"We're in a golden age for the deep-fryer, but we're deep-frying new foods faster than we can discover them," said Seth Kolloen, Editor of ManTestedRecipes. "We've gone from deep-frying clams, turkeys and chicken wings to deep-frying candy bars and pizza. Now, deep-frying experts have developed techniques to deep-fry liquids like beer and Kool-Aid."
The frying phenomenon has moved beyond state fairs and into kitchens around the world. But unless new foods are discovered soon, perhaps in Alaska, the former Soviet Union, or deep in the world's oceans, there will be nothing to deep-fry anywhere. And given the recent end of NASA's Space Shuttle Program, it is not feasible to obtain these resources from other planets.
Others in the food community are concerned as well. "We know the Bacon Salt® community loves fried food almost as much as bacon and wouldn't survive a fried-food famine, that's why we're hard at work developing new bacon flavored foods to fry," said Justin Esch, president of Bacon Salt. Nick Chipman of DudeFoods.com stated "a world without new fried-food creations may be unbearable, men should definitely come together to do something about this."
Deep-frying connoisseurs can post new recipes to ManTestedRecipes.com or suggestions and ideas to ManTestedRecipes Facebook Page (facebook.com/mantestedrecipes) or Twitter Feed (twitter.com/mantestedrecipe) with the hashtag #deepfrycrisis.
These manly deep-fried recipes can help bubble up new ideas:

Healthy Deep-Fried Recipe Collection:
http://mantestedrecipes.com/recipes/tag-11739/healthy-deep-fried-recipes.aspx
Full Deep-Fried Recipe Collection:
http://mantestedrecipes.com/recipes/deep-fryer-recipes.aspx?page=5
About ManTestedRecipes
Man Tested Recipes, a Reader's Digest Association (RDA) brand, is an up and coming community-driven website where men connect with their peers and share their enthusiasm of cooking, family and food. Launched in March 2010 by Allrecipes.com, ManTestedRecipes is the only social site catering to the unique food interests and preferences of male cooks, and provides insights into the cooking passions of men everywhere. The site leverages the proprietary tools and technology that consistently make Allrecipes the #1 food website, allowing members to submit recipes, rate, review and comment on recipes, post photos, tag recipes, friend, follow and post messages to other members. For additional information regarding ManTestedRecipes, please visit ManTestedRecipes.com.
About Reader's Digest Association, Inc.
RDA is a global multi-brand media and marketing company that educates, entertains and connects audiences around the world. The company builds multi-platform communities based on branded content. With offices in 44 countries, it reaches a customer base of 130 million in 79 countries. It publishes 92 magazines, including 50 editions of Reader's Digest, the world's largest-circulation magazine, operates 78 branded websites and sells 40 million books, music and video products across the world each year. Further information about the company can be found at RDA.com.
# # #