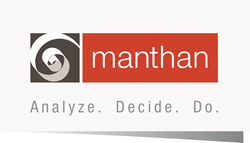 The capability has been specifically designed for marketers looking for a solution to re-energize their email newsletters, weekly emails and mobile apps that are losing their sheen in building customer engagement
Santa Clara, CA (PRWEB) June 14, 2017
Manthan, a global leader in Advanced Analytics, Big Data and Artificial Intelligence, announced the latest release of its most awarded customer targeting platform, TargetOne. With this release, the solution will enable marketers to engage customers with dynamic personalized content within e-mail, mobile push notifications and SMS messages.
Customers today are inundated with promotional messages that are often irrelevant. There is growing fatigue among recipients and they are very likely to disregard any form of generic communication. Creating unique, individualized content is a major challenge for marketers as they strive to capture customer attention and drive meaningful engagement. The new release of TargetOne addresses this with personalization scripting capability that can dynamically change content and personalize it based on customer attributes, current context, customer segments and past behaviours. "The capability has been specifically designed for marketers looking for a solution to re-energize their email newsletters, weekly emails and mobile apps that are losing their sheen in building customer engagement", says Amit Rohatgi, Director, Product Management at Manthan. "An intelligent personalization platform, TargetOne can automate personalization across a range of channels to drive engagement in every customer interaction to significantly improve marketing returns," he adds.
The new release also provides marketers with real-time personalization capabilities across all customer touch points. A new workbench functionality introduced in this release helps marketers create decision trees with multiple conditions. This will allow marketers to respond to different business conditions in real time with personalized messages based on an event, interaction context, customer's current disposition and past behaviours.
The platform also leverages machine learning to provide accurate and personalized endorsements through an inbuilt recommendation engine, enabling retailers around the world to engage customers, drive repeat purchase, increase order value and improve overall marketing ROI.
About Manthan:
Manthan is the Chief Analytics Officer for consumer industries worldwide. Manthan's portfolio of analytics-enabled business applications, advanced analytics platforms and solutions are architected to help users across industries walk the complete data-to-result path - analyze, take guided decisions and execute these decisions real-time. Sophisticated, yet intuitive analytical capability coupled with the power of big data, mobility and cloud computing, brings users business-ready applications that provide on-demand access and real-time execution - the only path to profit in a contemporary, on-demand and connected economy. Manthan is one of the most awarded analytics innovators among analysts and customers alike. To see how your business can gain from analytics, visit http://www.manthan.com.