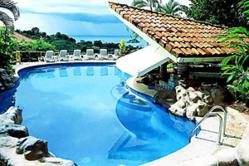 Manuel Antonio, Costa Rica (PRWEB) April 26, 2013
Greentique Hotels of Costa Rica is rapidly becoming one of the country's premier sustainable management companies and their flagship, Si Como No, has just launched a brand new web design.
The recognized Manuel Antonio hotel - Si Como No - is celebrating their 20th anniversary and to mark this momentous occasion, Greentique Hotels has launched the companies first and only, responsive design web page. This new technology offers visitors the freedom to browse--without worry of the type of device they may be using. Responsive web sites operate uniformly across all platforms and devices giving mobile or desktop viewers an equally visually stunning experience.
As the managing company behind Si Como No, Greentique Hotels is Costa Rica's recognized leader in high quality, sustainable hospitality, offering boutique hotel and resort experiences with exceptional service, premier dining and nature-based activities in Costa Rica's most spectacular regions.
Since inception, Si Como No has continued to be a model of sustainability within the country and throughout the world. Proof in point with their CST 5 Leaf Certification - Costa Rica's highest sustainability industry rating.
Founder and CEO of Greentique Hotels, Jim Damalas, had this to say...
"We are proud to announce the relaunch of the web page for our flagship hotel in Manuel Antonio, Si Como No. Most importantly we hope the response from our visitors and guests will be equally well received. A lot of time and energy went in to this new responsive design in ensuring that all of the same key components our guests have come accustom to remained while we improved upon the organization and easy of use."
Si Como No is a Manuel Antonio resort, spa and wildlife refuge. The adjacent wildlife refuge features some of the areas most intriguing wildlife. Here you can view monkeys, crocodiles, caimans, turtles and some of the most interesting insects native to the Costa Rican rainforests.
The hotel prides itself on their slogan of "barefoot luxury" which exemplifies the ideology that founder Jim Damalas started off with and that remains intact today--quality, comfort and convenience do not have to be sacrificed to achieve more responsible tourism.
###
About Si Como No Resort & Spa
Established in 1993, Si Como No would quickly become one of Costa Rica's first luxury hotels. Nestled in the jungles above the white sands of Manuel Antonio, SCN continues to raise the bar in luxury sustainable tourism. Winner of countless international and national awards & recognitions, Si Como No is a proud member of Greentique Hotels of Costa Rica which believes in sustainable "green" travel. For more on Greentique visit their website at http://www.greentiquehotels.com and for more information on Si Como No, visit http://www.sicomono.com.