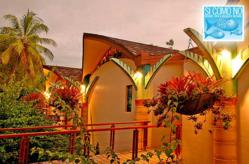 Manuel Antonio, Costa Rica (PRWEB) April 19, 2013
As the deadline draws near, the team at Si Como No - renowned Manuel Antonio resort- prepare for the launch of their newly designed web page.
Si Como No is celebrating their 20th anniversary this year and with that, is preparing to announce the completion of their new web page.
A representative from Si Como No and Greentique Hotels of Costa Rica, had this to say...
"In remaining loyal to the high level of customer service our guests have come to expect, we recognized the importance in transferring that level of service to include our web site. We've taken the most popular content of our site - improved upon it - and eliminated the excess. This way we hope to create a web site that is not only easy to navigate but also simple to use."
From the humble beginnings with 6 villas, Si Como No has since expanded to an impressive 58 rooms. As one of the country's first luxury hotels, Si Como No sits perched amongst the rainforest terraces of Manuel Antonio.
As an accredited 5-Greenleaf Sustainable Tourism Certified hotel, Si Como No prides themselves in their continued efforts to do their part in protecting the natural environment around us.
Winner of the 2013 Travelers Choice Award by Trip Advisor, Si Como No continues to provide unparalleled customer service while retaining a high level of consciousness to their incredible natural surroundings - evident in their countless awards for conservation and community action programs.
For more information on Si Como No Manuel Antonio resort, visit their website at http://www.sicomono.com or by contacting them toll-free at 1-888-742-6667 and book your next holiday to paradise with Greentique Hotels of Costa Rica.
###
About Si Como No Resort & Spa
Established in 1993, Si Como No would quickly become one of Costa Rica's first luxury hotels. Nestled in the jungles above the white sands of Manuel Antonio, SCN continues to raise the bar in luxury sustainable tourism. Winner of countless international and national awards & recognitions, Si Como No is a proud member of Greentique Hotels of Costa Rica which believes in sustainable "green" travel. For more on Greentique visit their website at http://www.greentiquehotels.com and for more information on Si Como No, visit http://www.sicomono.com