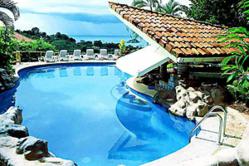 Sharing our concept of a more responsible vacation supports our message that visitors and guests can Travel Well and Travel Right with Greentique Hotels.

Jim Damalas
Manuel Antonio, Costa Rica (PRWEB) June 17, 2013
The popular network game show Wheel of Future is celebrating 31 seasons as the longest running syndicated game show in the United States. TV Guide named Wheel of Fortune as the "top-rated syndicated series."
Greentique Hotels is honored that in an upcoming episode, one of its Costa Rica member hotels will be featured, for the second time, as top prize on the incredibly successful and respected game show. The show's grand prize will be the "Carbon Offset Vacation," created by Greentique Hotels at its luxury Manuel Antonio resort, Si Como No Resort, Spa & Wildlife Refuge.
Quick Fact:
Merv Griffin - the creator of Wheel of Fortune - came up with the idea for the show when he recalled long road trips as a child on which he and his sister would play the game Hangman.
Greentique Hotels, is a leading sustainable hospitality group committed to providing exceptional and authentic Costa Rica experiences while minimizing their carbon footprint. Member hotels include Si Como No Spa & Wildlife Refuge in Manuel Antonio, Villa Blanca Cloud Forest Hotel and Nature Reserve in San Ramon, and Aguila de Osa Inn located on Costa Rica's Osa Peninsula. The Greentique Hotels carbon reduction strategy ties in closely with their broader sustainability initiatives that have seen them granted such prestigious awards as the Corporate Sustainable-Trend Setter Award from Rainforest Alliance, presented by Gisele Bündchen. The World Heritage Alliance & United Nations Foundation has also recognized Greentique Hotels for its contributions to the industry in sustainable travel. Additionally, member hotels Villa Blanca and Si Como No have both earned the top award for sustainable tourism in Costa Rica, receiving the 5-Green Leaf Award by CST (Costa Rica Sustainable Tourism).
As the flagship of Greentique Hotels, Si Como No stands testament to the value and importance of sustainable hospitality. Celebrating 20 years in Manuel Antonio, this award-winning architectural marvel continuously draws tourists from all corners of the world. Past guests of Si Como No include acclaimed film director Francis Ford Coppola, actor Michael Keaton, and numerous performing artists including Jimmy Buffett and Pink, all of whom have enjoyed the resort's brand of sustainable Costa Rican hospitality.
President of Greentique Hotels, Jim Damalas, had this to say about the opportunity of offering a green vacation for "Wheel of Fortune" contestants, "Sharing our concept of a more responsible vacation supports our message that visitors and guests can Travel Well and Travel Right with Greentique Hotels. Being able to make choices that improve our planet while enjoying the exceptional Costa Rica experiences we provide, is a win-win for all of us."
For more information about responsible travel and the Greentique Hotels commitment to sustainable hospitality, visit - http://www.sicomono.com/about-us/sustainability/
###
About Greentique Hotels:
Greentique Hotels, a recognized leader in high quality, sustainable hospitality in Costa Rica, offers exceptional boutique hotel and resort experiences at all of our member properties. Enjoy the very best in personalized service, premier dining, and our unique, nature-based activities created to immerse you in the magic of nature in the country's most spectacular regions. With Greentique Hotels, you can travel well and travel right in Costa Rica.
For more on Greentique visit their website at http://www.greentiquehotels.com or to view the premier episode featuring Greentique Hotels on Wheel of Fortune, visit - http://www.sonypicturestelevision.com/landings/wjclips/wofclip.php?id=448
GTQH member hotels and resorts in Costa Rica currently include:
Si Como No Resort - a Manuel Antonio hotel on the Central Pacific Coast - 1 (888) 742-6667
Villa Blanca Hotel - above San Ramon in the Central Highlands - 1 (877) 256-8399
Aguila de Osa Inn - a Drake Bay hotel on the Osa Peninsula - 1 (866) 924-8452