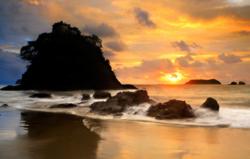 Manuel Antonio, Costa Rica (PRWEB) May 28, 2013
Every year, the infamous travel authority site TripAdvisor, releases the results of the top beaches throughout the world by crediting them with the TripAdvisor® Certificate of Excellence Award. In the field covering Central America, eight of the top ten were from Costa Rica.
Taking home the prize as the best beach in all of Central America was the distinguished Manuel Antonio beach of Costa Rica. The area has long been the most popular destination for tourists visiting the country and this award only strengthens that on the international - as well as local - markets.
Over the years, Manuel Antonio has continued to gain notoriety and as such has become quite developed. Coincidentally, the delicate balance between sustainability and development has been no more evident than here in Manuel Antonio.
Local businesses have gone to great lengths to ensure harmony between development and the environment and as a result, the area remains a beehive of bio-diversity.
One such company is Greentique Hotels. With locations throughout the country, Greentique Hotels focuses heavily on sustainability and eco-awareness. In fact, it is at the very core of their mission statement.
Perched above the white sands of Manuel Antonio is the renowned Si Como No Resort, Spa & Wildlife Refuge. This is the flagship hotel of the Greentique Hotels brand and personifies barefoot luxury - "green friendly" without compromise. Si Como No is celebrating 20 years of impecable service and commitment this year and has announced a handful of savings throughout their popular Greentique vacation packages.
As the trailblazer for sustainable tourism through the handful of CST (Certified Sustainable Tourism) certified Manuel Antonio hotels, Si Como No proudly displays top honors with their 5 Green Leaf accreditation.
About Si Como No Resort & Spa
Established in 1993, Si Como No would quickly become one of Costa Rica's first luxury hotels. Nestled in the jungles above the white sands of Manuel Antonio, SCN continues to raise the bar in luxury sustainable tourism. Winner of countless international and national awards & recognitions, Si Como No is a proud member of Greentique Hotels of Costa Rica which believes in sustainable "green" travel. For more on Greentique, visit their website at http://www.greentiquehotels.com and for more information on Si Como No, visit http://www.sicomono.com.