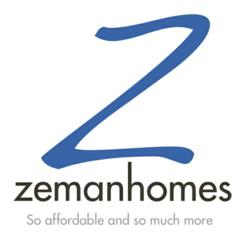 Chicago, IL (PRWEB) January 08, 2012
The New Year will bring about many exciting changes for the Zeman Homes company. Zeman Homes, headquartered in Chicago, IL is a premier provider of manufactured homes. Zeman owns and operates over 30 manufactured home neighborhoods located throughout Illinois, Indiana, and Michigan. In 2012, not only will Zeman launch a new, more up-to-date website designed by MA Interactive, but they will also embrace an entirely new brand identity. As part of all of this, they will soon boast a new tag line "So affordable and so much more". Along with the new look and new tag line, Zeman Homes has launched its new Dreamfund promotion supporting their offering of affordable homes.
The Dreamfund program makes owning a home a possibility for those who have, until now, only dreamed of it. The concept is simple, yet it works. The Zeman Homes Dreamfund program recognizes that well qualified individuals and families can use their 2011 federal tax refund as an easy way to establish a down payment on a manufactured home in one of Zeman's many affordable neighborhoods. Down and monthly payments required for these homes will range from neighborhood to neighborhood. At their highest priced locations such as those in Park City, IL, it is still possible to pay as little as $1,995 down and $990 a month for a new home. At certain locations in Indiana like Terrace Acres and Weatherstone Village, the price of a new home can be as low as $1,395 down and $660 a month!
IRS Commissioner Doug Shulman told Congress that the average federal tax refund for 2011 will be about $3,000. For anyone whose tax refund is anywhere near this average, they would have more than enough money for a down payment on a new Zeman manufactured home and should consult a Zeman Homes team member for details.
Owning a Zeman dream home is not only affordable; the process is also extremely easy. Just visit any Zeman manufactured home welcome center and provide a team member with some basic information such as current income, current financial obligations, and so forth. It is even possible to get pre-approved in just a few minutes. Once approved, there is only one thing left for that person to do and that is to pick out which Zeman home they will soon call home.
Despite the challenged housing market, Zeman Homes thrives. "We understand the financial hardships many people face in this struggling economy. The Dreamfund program gives people that little bit of hope and stability necessary to counteract the economic adversity many of our customers have faced in 2011," said Dee Pizer, CEO of Zeman Homes.
Zeman Homes provides incredibly affordable and attractive manufactured housing to families with over thirty locations throughout Illinois, Indiana, and Michigan. The Dreamfund promotion simply highlights the affordable aspect of Zeman's housing offering. Pizer added, "Affordability is definitely an important focus. However, for us it's also about so much more than that; it's also about actively maintaining and improving great neighborhoods. It's about cooperation, devotion, and respect for both the customers and the team."
Background
Zeman Homes located in Chicago, IL owns and operates over 30 manufactured housing neighborhoods in Illinois, Indiana, Michigan. They have been a leading provider of affordable manufactured homes for over 40 years.
# # #