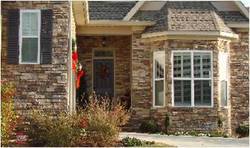 Dawsonville, GA (Vocus) November 8, 2010
Native Custom Stone of Dawsonville GA a premier supplier of manufactured stone products is focusing on opportunities in the major Alabama construction markets of Birmingham, Huntsville, Montgomery, Mobile, and Tuscaloosa. These opportunities surfaced when an Alabama competitor, Allurium Stone, exited the manufactured synthetic stone marketplace. Even in the current slow construction market, the dwindling numbers of manufactured stone suppliers opens excellent opportunities for Native Custom Stone's synthetic stone products.
Customers in the Alabama market will have access to Native Custom Stone's extensive line of Tier One quality cultured stone products sold at Tier Two prices. The cost savings on this line of products are substantial, allowing contractors to compete on residential and commercial projects knowing that they have a huge cost advantage on the manufactured stone component of the bid. Being able to supply high quality synthetic stone products at low prices gives Native Custom Stone a leading position in the Alabama manufactured stone products market. Their comprehensive 50 year manufactured stone warranty against defects provides another compelling reason for architects and building contractors to select the company's products for residential and commercial projects requiring high quality stone veneer. The company's products come with a complete set of specifications and synthetic stone installation instructions to assist architects and builders.
Native Custom Stone's products meet or exceed Tier 1 quality for Compressive Strength – ASTM C192 and ASTM C39, Tensile Strength – ASTM C 190, Flexural Strength – ASTM C 348, Shear Bond Strength – ASTM C 482, Moisture Absorption – AC51 Section 4.6, Freeze-Thaw Resistance – ASTM C67 and Equilibrium Density – ASTM C567. Their proprietary manufacturing processes are used to produce these high quality manufactured stone products in a wide variety of styles and colors. The company has its own production facility in Dawsonville, GA with a large manufacturing capacity that can ramp up quickly to fulfill even the largest orders. In addition to the Alabama markets, Native Custom Stone is currently shipping its products internationally to Europe and Asia and nationwide to the Pennsylvania, Florida, Texas and California construction markets.
Billy Bennett, President of Native Custom Stone, spoke about the emerging Alabama market opportunities. "As a business owner I hate to see a business falter, even if it was a competitor, but in this tough economic environment it is a fact of life. However, even in the current down economy there are opportunities if you have excellent products and break-through pricing. Now Alabama contractors can use our products as a competitive advantage when comes to synthetic stone quality and price. I would match our manufactured stone quality against the largest manufacturers in the industry. Our customers have been installing our manufactured stone products on commercial and residential projects in areas with some of the strictest building codes and our products have exceeded the toughest building codes around. Our high quality products and low pricing allows us to help our Alabama customers compete for projects against competitors that are bidding with higher priced or inferior products. When you add our warranty to our manufactured stone products we have a very compelling product line that we have worked hard to develop and deliver to our Alabama customers. We are looking forward to working with new customers in Birmingham, Huntsville, Montgomery, Tuscaloosa and Mobile to develop manufactured stone solutions for their commercial and residential projects."
Native Custom Stone's Website and Search Engine Marketing solutions are provided by Atlanta SEO Company, Interactive Search Marketing. Native Custom Stone has been serving residential and commercial construction faux stone markets in the southeast and across the nation for over 20 years. Native Custom Stone's headquarters is located at: 236 Hightower Parkway, Dawsonville, GA 30534, USA. Phone: 888-823-0745 / 706-216-5545.
.
###