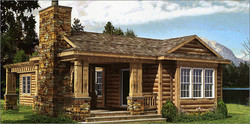 home and we have sold several to date
Chandler, AZ (PRWEB) October 15, 2009
Factory Expo Home Centers is pleased to announce that last year's introduction of new manufactured homes "concept" has been met with surprising success in 2009. Escape Series Cottage Homes, introduced by the Champion Homes of Chandler, Arizona in October 2008, were created for landowners looking for an aesthetic different from the traditional "residential" look of Mobile Homes. The new Cottage style homes, which have an "outdoorsy" and rustic appearance, are ideal for placement in wooded areas, by lakes, or in the mountains.
Ray Anderson, thirty-year industry veteran and General Manager of Factory Expo Home Centers in Chandler said, "This was an entirely new type of product, one I had never seen before. Although I was optimistic about the potential of a home like this, I just wasn't sure how it would be received or whether the recent downturn in the economy would overshadow its debut. To my surprise, we have found buyers for this type of "niche" home and we have sold several to date".
There are three basic floor plans available in the Escape Cottage Series, all come standard with interior and exterior features expressly suited to the outdoor-vacation lifestyle, such as outdoor kitchen, covered porch, hardwood cabinetry and wine racks. Each floor plan is available in one of three different rustic exterior styles: Southwest, Alpine, or Traditional. Each exterior style incorporates a unique set of architectural features.
Escape Series Cottage homes are marketed under Factory Expo Home Centers at Escape Series
Factory Expo Home Centers in Chandler, Arizona is the largest single location retailer of Manufactured Homes and Park Model Homes in the Southwest. The company is also the largest factory direct dealer of Manufactured Homes located at factories in the country.
SOURCE: Factory Expo Home Centers
http://www.AZChampion.com
###