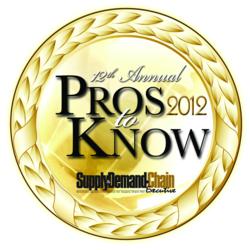 Chicago, IL (PRWEB) February 29, 2012
Prime Advantage, the leading buying consortium for midsized industrial manufacturers and food processing companies, announced that President, CEO and Founder Louise O'Sullivan has been named a 2012 Supply & Demand Chain Executive "Provider Pro to Know." This is the fourth consecutive year that O'Sullivan has been named a Pro to Know by the respected trade magazine's editorial selection committee. The magazine announced the annual listing of Pros to Know on February 15.
The Provider Pros to Know is a listing of individuals from a software firm or service provider, consultancy or academia, who have helped their supply chain clients or the supply chain community at large prepare to meet the significant challenges in the year ahead.
"Our annual list of Provider Pros to Know highlights the many thought-leaders who are helping to shape the supply chain industry and advance supply chain as a respected discipline in the enterprise," said Barry Hochfelder, editor of Supply & Demand Chain Executive. "Their efforts in developing the tools, processes and knowledge base necessary for supply chain transformation, and in promoting new approaches to supply chain enablement, have earned them a place on this year's Provider Pros listing."
As founder and CEO of Prime Advantage, O'Sullivan's vision of providing procurement and sourcing benefits to midsized manufacturers has provided a much-needed cushion of stability for the group's 750+ members, enabling these companies to enjoy a competitive advantage usually reserved for Fortune 500 companies. The competitive pricing, volume-based rebates, value-added services and breadth of supplier categories offered to members of Prime Advantage are proven to help companies run more efficiently, be more profitable and mitigate risk within their supply chains.
"We're honored to be recognized once again by Supply & Demand Chain Executive as an innovative and strategic sourcing leader within the supply chain community," said O'Sullivan. "Our Members benefit greatly from the savings programs we have in place with our industry-leading endorsed suppliers. As we continue to penetrate new industrial manufacturing and food processing markets, we look forward to creating even more value for our members and suppliers."
The full listing of the 2012 Pros to Know will be available in the February/March 2012 issue of Supply & Demand Chain Executive magazine and e-book beginning in early March and on the Supply & Demand Chain Executive website.
Since its inception, Prime Advantage has returned more than $110 million in rebates and discounts to its members. These real savings are helping U.S. companies gain a powerful competitive advantage.
About Prime Advantage
Founded in 1997, Prime Advantage is a buying consortium for industrial manufacturers with more than 750 members and more than 125 endorsed suppliers. For more information on Prime Advantage, visit the website at http://www.primeadvantage.com.
###