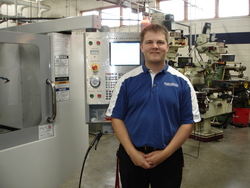 I was contacted by Jesse Domer of Watertown High School in Watertown, Wisconsin to speak to his students about opportunities in manufacturing
Schaumburg, IL (PRWEB) February 13, 2009
As part of their continuing commitment to technical education, Kitagawa-NorthTech, Inc., continues to provide educational outreach programs to introduce and encourage students to the opportunities in manufacturing as a career option.
Over the last several years Bill Graham, Marketing Manager for Kitagawa-NorthTech, Inc., has met and talked with many manufacturing companies who share a common problem; finding good, skilled employees. According to Graham, "An area of concern is the lack of young people coming into manufacturing industries. This is certainly not a new problem but there does not seem to be any improvement. That is why I have started to do an outreach program with the full and enthusiastic support of my company who fully understands that it is in everyone's best interest to attract the best and brightest into manufacturing."
Graham's approach is a grass roots effort to reach out directly to high school students. He has spoken to students about industry needs and opportunities in manufacturing and engineering. Most recently he had the chance to speak with students involved in a program called "Project Lead the Way". This is a high school program that mixes classroom education with hands on projects in CAD/CAM, drafting, machining, welding and other technology areas.
"I was contacted by Jesse Domer of Watertown High School in Watertown, Wisconsin to speak to his students about opportunities in manufacturing," said Graham. Mr. Domer teaches the "Project Lead the Way" program but finds that many of the students that go through the program do not move on to take further manufacturing related education or jobs in manufacturing. He recognized the manufacturing environment around Watertown, WI is doing very well and desperately needs more skilled employees.
Mr. Domer's students also compete in SkillsUSA, a program that allows students to compete in many areas associated with "Project Lead the Way". The students are particularly involved in the Electrathon competition that involves speed and endurance racing of single person, battery operated vehicles. Graham met and spoke with many students who were very bright and had interest in the use of the new CNC mill that the school recently purchased. Watertown High School has a full shop with welding equipment, manual lathes, and manual mills along with the new CNC mill. This equipment is used by the students for both SkillsUSA and "Project Lead the Way." Graham commented, "These are the kinds of students that manufacturing companies need to attract into the industry."
Mr. Graham's presentation centered on dispelling some of the myths about manufacturing careers. Talking with students, he discovered the same things said about working in manufacturing; it is dirty, low skilled, low pay work without a future. "As an industry we have done a poor job of showing younger people that there are excellent, high skilled, high wage jobs begging to be filled," said Graham. "We as a nation risk losing our ability to be competitive in manufacturing due to a shortage of technically skilled people. As an industry we need to find the teachers who, like Jesse Domer, are interested in teaching these skills and trying to get students interested in technical material." Graham concluded, "We need to find them and support them as their students are the manufacturing future. It is up to us to make sure that future is bright."
Kitagawa-NorthTech, Inc., along with Bill Graham continues to make this program available free to schools upon request and scheduling. For complete details contact Kitagawa-NorthTech, Inc., 301 Commerce Drive, Schaumburg, IL 60137; 800-222-4138
###