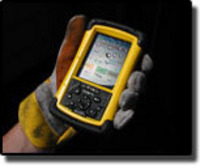 Windows Mobile allows us to communicate visually
Issaquah, WA (PRWEB) May 29, 2008
Generation Systems'™ Handheld Routes™ receives Microsoft's Designed for Windows Mobile qualification -- created by Microsoft to help end-users easily identify proven Windows Mobile™ compatible products.
Hand held devices are bringing many benefits to corporations including: increased productivity, improved morale, reduced errors, lower lubrication costs, improved machine condition and increased reliability -- it all adds up to longer asset life, increased uptime, lower operating costs and, ultimately, greater profitability for the whole organization.
"We're already a corporate standard for industry, but we see Microsoft's recognition of the technical aspects as a real compliment," said Eric Rasmusson, President of Generation Systems, Inc. "I'm very proud of our team -- it's another milestone for our LUBE-IT™ product."
When combined with Generation Systems' software, rugged handheld computers using Windows Mobile, become a key strategic element in industrial manufacturing facilities around the world. Handheld Routes is a part of LUBE-IT, the worlds leading lubrication reliability software solution. This combination ensures lubrication is done accurately by delivering exacting activity requirements and information to the fingertips of maintenance personnel.
"Windows Mobile allows us to communicate visually," Mr. Rasmusson continued, "efficiently directing people point-to-point through thousands of tasks, with red icons for past-due, yellow for safety, and so on." Single-touch input insures quick and precise collection of vital information--as tasks are performed--eliminating error-prone keyboard entry. This saves hours of valuable employee time and assures dependable updates of plant-wide lubrication and reliability information.
International studies prove poor execution of lubrication responsible for over 50% of industrial equipment failure. With unplanned shutdowns costing up to $250,000 a day, Lubrication Reliability is one of the few remaining opportunities for industrial corporations to markedly impact profit and shareholder value.
Handheld Routes for Windows Mobile is an advanced component of Generation Systems' LUBE-IT lubrication software. With more systems purchased than all others combined, LUBE-IT is used around the globe by industrial organizations such as Alcan, BP Castrol, DuPont, Holcim, SKF, Rio Tinto, and WR Grace.
About Generation Systems, Inc.: Founded in 1984, Generation Systems' ongoing mission is to enhance the profit and operational excellence of its customers through improved lubrication practices. A mission realized within the company's flagship product, LUBE-IT -- the world's most widely used lubrication reliability software.
LUBE-IT and Handheld Routes are trademarks of Generation Systems, Inc. Microsoft and Windows Mobile are trademarks of Microsoft. All other trademarks are property of their respective owners.
Contact:
William D. Correll, Vice President
Generation Systems, Inc.
http://www.generationsystems.com
206-390-0100
# # #