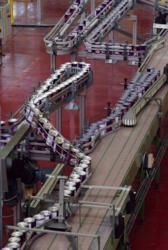 Shopfloor-Online supports all aspects of manufacturing across production, inventory, quality and maintenance operations.
Rochester, NY (PRWEB) May 07, 2012
Lighthouse Systems are delighted to have been recognized by leading analysts Frost & Sullivan as being best-in-class for delivering Manufacturing Execution Systems (MES) to the packaging industry. The award for Global Customer Value Enhancement for MES Solutions in the Packaging Industry in 2011 recognizes that Lighthouse Systems has a constant focus on enhancing the value that its customers receive, beyond just good customer service, leading to improved customer retention and ultimately customer base expansion.
Tim Barber, Business Director said: "We are proud to have brought such demonstrable improvements to our customers in the complex packaging industry in such a short period of time."
"We are absolutely thrilled that such a reputable analyst as Frost & Sullivan has endorsed what Lighthouse Systems has demonstrated in factories around the world - that our flagship MES solution Shopfloor-Online brings our customers immediate benefits from improved productivity, improved quality, reduced waste, full traceability and a tool to standardize business processes across global operations."
The packaging industry demands high quality while operating in a very high volume, high-speed production environment. For these companies, squeezing more efficiency out of operations is a challenge. Frost & Sullivan observes: "In this global, cost-competitive industry, packaging companies require enterprise-wide visibility to monitor and control their diverse worldwide manufacturing processes. They need a single, standardized solution that is easy to implement and will increase their return on investment." Increasingly, an enterprise resource planning (ERP) solution may just not be enough and many packaging companies are adopting MES solutions to standardize processes across their global business to drive operational excellence.
Shopfloor-Online supports all aspects of manufacturing across production, inventory, quality and maintenance operations. It connects directly with the ERP system and to manufacturing equipment, providing a real-time visibility of performance using dashboards across the factory, or across the world in multi-national deployments.
Implementation is carried out by Lighthouse Systems' team of experts and includes requirements analysis, design, implementation, training and support, which is second-to-none in the industry, so a return on investment is achieved right from the start. Frost & Sullivan points out that Lighthouse Systems' "ability to work collaboratively with customers from the project conception stage to commencement and maintenance is truly commendable." Lighthouse Systems strives to ensure that every customer's expectation is exceeded resulting in a rapid return on investment.
The Lighthouse Systems approach is to focus on the pressing business problems e.g. productivity, quality, traceability, logistics and build a solution using only the appropriate modules of Shopfloor-Online. In most cases, having realized the power of Shopfloor-Online, the customer extends the scope of the system, taking a stepwise approach towards full MES. The vision is one database for all operational data: one place that everyone, everywhere in the factory goes to for all factory information.
Lighthouse Systems is one of the leading MES solutions suppliers in the world, with hundreds of installations in 37 countries and annual growth in revenues of 40 per cent. For some time now, Lighthouse Systems has been one of the key go-to companies for packaging manufacturers due to its track record in deploying successful solutions, which have been accepted as a purveyor of best practice by major worldwide packaging manufacturers such as LINPAC Packaging, Rexam, Constar and Crown.
Frost & Sullivan's full report can be downloaded from:
http://www.lighthousesystems.com