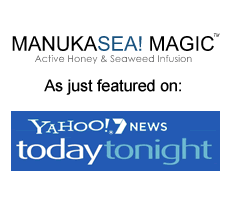 We were after more youthful glowing skin ... But it's doing a lot more than just that.
Brisbane, Queensland, Australia (PRWEB) March 16, 2011
Australian formulators were taken by surprise after recently launching the world's first manuka honey and seaweed skin creams.
...Customers started testifying to pock mark, sun spot, scaring, acne, rosacea and other skin ailment reductions.
When asked what's producing these unexpected results the creators responded, "Manuka honey ( or miracle honey / natural remedy as Australia's leading current affairs program Today Tonight just called it - ManukaSea! Magic products were featured in the story) is gaining international acceptance as a natural remedy working where various penicillin's and antibiotics are failing. What we're seeing here, however, may well be the synergistic by-products of active manuka honey combined with various ingredients from the ocean."
You can see part of the broadcast here:
The formulator's idea to put manuka honey in skin care came about after discovering the effect of manuka honey on a burn.
ManukaSea! Magic products are created from 20+ bioactive manuka honey sourced from New Zealand and seaweed harvested from a small producer on the west coast of Ireland, are manufactured in Brisbane, Australia and are being shipped worldwide.
Products include a manuka honey / sea salt scrub that doubles as a cleanser (removes make up), a clay / manuka honey detoxifying mask and a manuka honey moisturiser that doubles as an eye cream.
The owners are happy to talk with media personnel who may want to know more about this intriguing story.
###