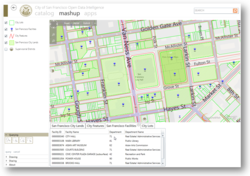 We wanted to make building a mashup with spatial data as easy as creating a music playlist
Tallahassee, FL (Vocus/PRWEB) February 10, 2011
The MapDotNet Team at ISC is pleased to announce a new, open source project called Open Intel. Open Intel (OI) is a feature rich codebase built with ISC's MapDotNet UX and is heavily focused on spatial data visualization and cartographic analysis with Microsoft's Bing Maps for Enterprise. Designed for use with Microsoft Windows Azure and SQL Azure, OI can benefit both government and the private sector enterprise.
OI can fulfill data transparency requirements as an open government data portal for publishing data for internal or external consumption. Additionally, OI is the foundation for building advanced business intelligence applications for analyzing large amounts of spatial and non-spatial data. Out-of-the-box, OI allows users to preview datasets in a data catalog, download data in portable formats such as shapefiles or comma separated values, connect to data feeds for building apps or widgets, or produce a mash up for advanced data analysis. The codebase, which has been in development for the past three months, is being released on Microsoft's CodePlex Open Source Community, at http://oi.codeplex.com.
"We wanted to make building a mashup with spatial data as easy as creating a music playlist," said Brian Hearn, the MapDotNet Lead Architect and a coordinator on the Open Intel project. "With inspiration from Microsoft's Zune user interface and following Microsoft's Metro styling guidelines, we designed the OI application for today's consumer who expects an app to be responsive and easy to use," adds Hearn. ISC is hosting a live demo of the OI application loaded with a large number of datasets from the City and County of San Francisco, at [http://openintel.cloudapp.net/OI.aspx.
The application is written in C# .NET and leverages Microsoft's Silverlight technology for the frontend user interface. OI can be easily deployed into Windows Azure and leverages SQL Azure for data storage. "Since Open Intel is designed for deployment Microsoft's cloud computing environment, Windows Azure, it makes setting up and getting started with the application very easy," says Hearn. For customers that don't have .NET developers on staff, ISC can provide support and software-as-a-service options for deploying and hosting the application for customers.
For more information on the Open Intel project, please visit http://oi.codeplex.com.
Founded in 1989, ISC is a worldwide leader in software that combines today's latest advances in web-based, consumer mapping with powerful enterprise GIS (geographic information systems). The company offers a wide range of products and services designed to empower people through great geospatial software.
HeyGov! and MapDotNet are trademarks of ISC in the United States and other countries. Microsoft, Windows, Windows Azure, Bing Maps for Enterprise, SQL Server, Silverlight, WPF and Zune are either registered trademarks or trademarks of Microsoft Corp. in the United States.
# # #