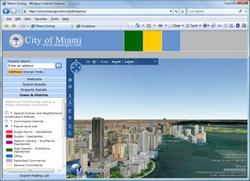 ISC has provided geospatial software and services to government agencies for more than ten years
Tallahassee, FL (Vocus) February 4, 2009
Today, ISC announced a new Local Government Enterprise License Agreement, making it easier for small and medium sized municipalities to acquire and deploy solutions that incorporate geospatial visualization and analysis. This special bundled solution provides a means for cities, counties and other municipal government entities to obtain licensed software and applications to support both internal operations and services to the public via the Internet. The offer is available to qualified local government agencies with a maximum population of 500,000.
The pricing for this bundled offering is $9,310 per year for 3 years, which reflects a 28% savings. The retail price for included software and support services is $38,740 when purchased separately.
"The value of the Virtual City Starter Website alone makes this a great offer for our government customers." said Casey Donovan of ISC; "Many agencies in small to mid-sized local areas are struggling to deploy modernized geospatial technology. We've been able to address their needs very well and this special pricing will certainly make it easier. One fantastic thing about this bundle is that it includes the licensing an agency needs to extend the reach of geographic information systems into new areas. They can start with the Virtual City today, and then expand into fully integrated geographic information systems when they're ready."
According to representatives at ISC, the following software licenses are included in this offer:

Unlimited use of MapDotNet UX Studio
3 MapDotNet UX Web Services Production Licenses
3 MapDotNet UX Web Services Developer Licenses
1 Virtual City Starter Website
Software maintenance for three years
MapDotNet UX Web Services licenses are per server. A single license is required per server with an unlimited number of processors. Software maintenance for three years is included.
The following support is provided as part of this offer as well:
-Unlimited use of the MapDotNet developer forums
-10 hours of telephone support which may include up to 5 hours of live training delivered over the Internet
"ISC has provided geospatial software and services to government agencies for more than ten years," said Mark Alexander of ISC, "and this Enterprise License Agreement represents the best value we've ever been able to offer small to medium sized local governments."
Founded in 1989, ISC is a worldwide leader in software that combines today's latest advances in web-based, consumer mapping with powerful enterprise GIS (geographic information systems). The company offers a wide range of products and services designed to empower people through great geospatial software.
MapDotNet is a trademark of ISC in the United States and other countries. Microsoft, Virtual Earth, SQL Server, Silverlight and WPF are either registered trademarks or trademarks of Microsoft Corp. in the United States and/or other countries. ESRI, ArcGIS, ArcSDE and ArcGIS Server are either registered trademarks or trademarks of ESRI in the United States and/or other countries.
For more information:
Casey Donovan, 850.893.6741 ext. 1029
For more information about MapDotNet:
http://www.mapdotnet.com
###