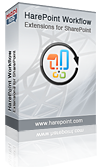 (PRWEB) May 25, 2011
MAPILab would like to announce a new software product: HarePoint Workflow Extensions for SharePoint 2010. The product considerably extends users' abilities for workflow authoring in Microsoft SharePoint Designer and Microsoft Visio.
The workflows are SharePoint key feature which allows you to automate business processes and to define SharePoint site logic. Workflow is automated movement of documents, items or data through a sequence of actions or tasks related to a process.
The HarePoint Workflow Extensions software includes over 130 ready-to-use workflow actions for different purposes: from automated creation of new SharePoint sites, up to sending messages to Twitter or instant messengers.
With HarePoint Extensions, users can create complex and functional workflows without programming, design workflow's algorithms visually in Microsoft Visio, customize and link up workflows to the site in SharePoint Designer. It significantly reduces the time of workflow authoring, and brings down the costs of development, deployment and maintenance.
As mentioned above, HarePoint Workflow Extensions offers more than 130 workflow actions. The great news is a set of free activities in the product. When product trial expires, you can continue using more than 20 activities for free, without any additional costs. It is really unique feature which is available in HarePoint Workflow Extensions only.
30-day trial version of HarePoint Workflow Extensions is available for download from the product home page: HarePoint.com
The specialists from HarePoint will also be happy to answer all your questions regarding HarePoint Workflow Extensions for SharePoint.
# # #