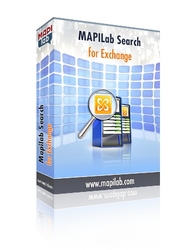 (PRWEB) March 29, 2011
MAPILab Search for Exchange is a solution that helps you search for messages and other items in mailboxes on Microsoft Exchange servers. The product is a powerful and flexible tool for carrying out multi-mailbox searches, and has greater functionality than the built-in features in Microsoft Exchange 2007/2010 servers.
There are three main purposes for which MAPILab Search for Exchange can be used:
Internal investigations – MAPILab Search for Exchange will simplify internal investigations since it can help you find the required messages or message chains relating to a particular incident. It will make it possible to establish the nature of the incident, the content and the people involved.
Human resources activity monitoring – MAPILab Search for Exchange's flexible search criteria can help management monitor staff use of electronic messages, detect violations and identify potential threats.
Legal discovery – If a company is involved in a judicial inquiry, mail messages may form part of the evidence. Searching for messages through all mail stores without using a special solution can be a lengthy and labor-intensive process. MAPILab Search for Exchange's functions mean this sort of task can be carried out in a quick and efficient manner by retrieving only those results that are relevant.
"We have more than five years of experience of developing solutions for Microsoft Exchange Server, and we carefully analyze the feedback we get from our clients. On the basis of this analysis, it has become clear that there is a need for a search tool for the Exchange environment that is powerful and also user-friendly. There will be a demand for this solution among corporate clients and we are ready to offer it," says Andrey Manchuk, MAPILab CEO.
MAPILab Search for Exchange main features include:

easy-to-use wizards to deploy products and create search queries;
efficient processing of search results in the application's specially developed interface;
quick and advanced search for additional information based on data initially retrieved.
You can download MAPILab Search for Exchange for a 30-day free trial at the software's homepage:
http://www.mapilab.com/exchange/exchange_search/
MAPILab staff will be glad to offer online consultations about the software.
###