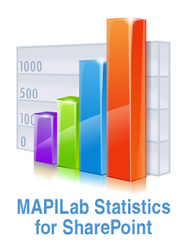 Seattle, WA (PRWEB) May 12, 2010
The MAPILab company is happy to announce a launch of a new web-site SPStats.com and a release of a new version (3.0) of MAPILab Statistics for SharePoint – an efficient solution for reporting, analytics and audit on SharePoint-based portals and sites.
Microsoft SharePoint is a foundation platform for building of web-based applications which allow teams to collaborate efficiently with team members, share information as well as to automate and streamline business processes. Analysis of collected data will help to examine user behavior and optimize the team collaboration. MAPILab Statistics for SharePoint offers reports covering such aspects as users and their activity, perception of content, usage of documents and list items, queries to search engine, growth in the number of documents, sites and size of databases.
Being a corporate solution, MAPILab Statistics requires more reliable presentation facilities for potential customers. Especially for these purposes we are launching SPStats.com web-site: a new homepage for MAPILab Statistics for SharePoint. This web-site was developed on SharePoint platform and it contains all required details regarding MAPILab Statistics for SharePoint. Visitors can read solution descriptions, watch screenshots and video-casts, schedule online meeting with MAPILab representatives, download a free trial version of the product or learn the licensing models and get a quote. To make a feedback from our users and customers much easier, we provide a convenient support area based on online trouble ticket system with a lot of features. Moreover telephone support is also available to ask questions regarding the product. We hope SPStats.com will be a right and convenient place to understand and chose MAPILab Statistics for SharePoint.
Other great news is the release of a new major version of MAPILab Statistics for SharePoint – version 3.0!
The main innovation of this version is MAPILab Statistics for SharePoint web part added on multiple requests of the product users. With this convenient tool the administrator is enabled to add the reports of MAPILab Statistics for SharePoint to any web-part page on the portal. Now necessary reports can be placed on those pages of the site where it is necessary, for example, the demonstration of a real number of portal visitors shall be useful on the page offering advertising services. Another vivid example of using a web part is creation of custom dashboards containing the reports useful for specific user only. Possibilities of setup and control of layout and content of reports in the web parts are even wider than in the product itself: only data or only diagrams can be displayed, it is possible to assign a data range automatically, for example, current week or the last month. Web part is supplied together with the product.
We also would like to announce the MAPILab Statistics for SharePoint 2010. It will be released in October 2010. We are going to release this solution as a separate product, not as a new version of the existing software. We provide the special offer for our customers regarding this product: our customers who purchase the MAPILab Statistics for SharePoint till August 31, 2010, can obtain our new product for SharePoint 2010 for free.
30-day free trial version of MAPILab Statistics for SharePoint is available for evaluation from SPStats.com. Moreover future users can review all reports and software features on a demo-portal (demo.spstats.com) where MAPILab Statistics for SharePoint is fully deployed. Online presentation of the software is also available on request.
###