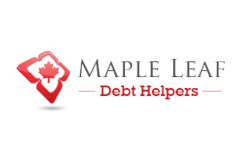 Maple Leaf Debt Helpers is proud to stand in solidarity with its fellow Canadians by releasing a brand-new personal finance tip sheet. The company welcomes debt-burdened Canadian consumers to boost their financial intelligence with the following five tips
Toronto, ON (PRWEB) December 12, 2012
Faced with a sluggish economy and rising inflation, many Canadians are more pessimistic than ever about their finances. Maple Leaf Debt Helpers, one of the country's foremost authorities on debt relief, recognizes that some Canadian consumers are struggling just to keep themselves fed and clothed.
As the country's personal financial crisis deepens, Maple Leaf Debt Helpers is proud to stand in solidarity with its fellow Canadians by releasing a brand-new personal finance tip sheet. The company welcomes debt-burdened Canadian consumers to boost their financial intelligence with the following five tips.
1. Invest in the Future
Most Canadians want to retire when they're young enough to enjoy a life of leisure. To accomplish this goal, the typical consumer must begin setting aside retirement funds years before his or her planned retirement date. A tax-protected RRSP can maximize the efficiency of this savings drive. Every Canadian who can afford to do so should set aside at least 5 percent of his or her income for retirement. Successful savers may even be able to leave additional inheritances for their families.
2. Save for a Rainy Day
In addition to their dedicated retirement accounts, Canadian consumers should also maintain separate "rainy day" funds that contain cash reserves for emergency situations. These funds should be supplied with regular contributions equal to 5 percent of their holders' monthly incomes. In fact, savers should aim to store enough money in this fund to cover their household expenses for six months or more. Emergency savings funds should not be tapped except in exceptional circumstances like extended periods of unemployment.
3. Take More Meaningful Vacations
Even cash-strapped families need the occasional break. However, the average Canadian consumer doesn't need to get on a plane and escape to the Rockies to make his or her annual vacation special. In fact, a local trip that involves a visit to a historical monument or childhood cabin might ultimately be more meaningful. In addition, it's far cheaper to drive to a lakeside campsite than to fly to a mountainside chalet.
4. Don't Compete with the Neighbors
Although Canadians are generally sensible and un-flashy, conspicuous consumption has become quite popular in certain parts of the country. Neighbors in tony suburbs of Toronto and Calgary have been known to one-up each other with expensive automobiles and seldom-used in-ground pools. Even consumers who can afford to do this in the short term shouldn't fall prey to such economic competition. Over time, it could produce unpleasant financial side effects.
5. Keep an Emergency Card
Canadian consumers shouldn't need to use multiple credit cards to make everyday purchases. Those who currently do so should quickly cut back on their credit card spending and stash their superfluous cards in a secure place. Most consumers need just one credit card to cover emergency expenses like an unexpected car repair bill or the sudden death of a loved one. This card shouldn't be used to make big-ticket or non-essential purchases.
Maple Leaf Debt Helpers is a trusted Canadian company with a history of helping its clients improve their finances and plan for the future. Consumers who wish to build on these common-sense finance tips and reduce their debts with professional help should call 1-877-710-3328 today.
Maple Leaf Debt Helpers offers personalized debt settlement plans that can reduce the typical debt burden by 40 to 60 percent in just 12 months. The company can negotiate with unsecured creditors of all types, including virtually every credit card issuer that does business in Canada.
To find more personal finance tips online, navigate to mapleleafdebthelpers.ca. For more information about the debt settlement process, call Maple Leaf Debt Helpers today at 1-877-710-3328.