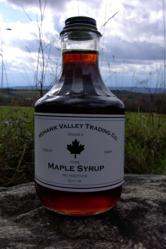 This is troubling. - Mary Ross of the Mohawk Valley Trading Company
Utica, NY (PRWEB) January 18, 2013
Scientists at the University of Vermont and others think global warming may be having some effect on maple syrup production in the United States by decreasing the season and shifting it to the north. The production of maple syrup requires specific climate conditions of cold nights and warm days and as sugar-maple forests shift north; this could benefit Canada's maple industry which produces more than 80 percent of the world's supply.
"I don't care what the naysayers say," said Mary Ross of the Mohawk Valley Trading Company where their maple syrup is made primarily from sugar maple sap. "There is a growing body of evidence that the earth's ambient temperature is rising. Scientists at NASA have ranked 2012 as the ninth-warmest year since 1880, when they started recording yearly temperatures and the ten hottest years over this 132-year time span have all happened since 1998."
Timothy D. Perkins, Ph.D., director of the University of Vermont's Proctor Maple Research Center, testified before Congress in 2007, that maple syrup season starts approximately 8 days earlier than it did 40 years ago and ends approximately 11 days earlier.
In addition, unusually warm summers and drought also contribute to the down turn in maple syrup production. The U.S. Global Change Research Program reported that temperatures in maple-sugar production regions of New England have steadily increased since 1916, a forbidding dilemma since sugar maples cannot thrive if summer temperatures are consistently above 77°F.
Professor of ecology and evolutionary biology at Cornell University, Brian F. Chabot, Ph.D., said that over the next 100 years, maple-syrup production in the United States will start earlier and earlier.
About The Proctor Maple Research Center
The Proctor Maple Research Center is a Field Research Station of the Department of Plant Biology in the College of Agriculture & Life Sciences at the University of Vermont.
The Proctor Maple Research Center was established in 1946 with the donation of the former Harvey Farm in Underhill Center, Vermont, to the University of Vermont by Governor Mortimer Proctor. Research has centered on the sugar maple tree (Acer saccharum Marsh.) and its products--sap and syrup.
About Maple Syrup
The production of maple syrup (メープルシロップ in Japanese) in North America predates European colonization. Early Native American societies in Canada and the northeastern United States were distilling maple syrup and sugar before those geographic boundaries existed. There is no written record of the first syrup production but several native legends persist. Many tribes celebrated the short maple sap collection season with specific rituals.
The Native Americans collected maple sap from v-shaped notches carved into maple trees. The sap was diverted into birch bark buckets using bark or reeds. It was concentrated by placing hot stones into the buckets or by freezing the sap and removing the ice, which is composed only of water.
Sugar maple sap is preferred for maple syrup production because it has an average sugar content of two percent. Sap from other maple species is usually lower in sugar content, and about twice as much is needed to produce the same amount of finished syrup.
When Europeans reached northeastern America they adapted native techniques to make their own maple syrup. The v-shaped notches were replaced with auger-drilled holes. This practice is less damaging to the trees. Bark buckets were replaced with seamless wooden buckets carved from lumber rounds. The method of sap concentration also changed from passive to active. Large amounts of sap were collected and brought to a single area where it was boiled over fires in round cauldrons until reduced to the desired consistency. 'Sugar shacks' were built expressly for the purpose of sap boiling. Draft animals were often used to haul fire wood and large containers of sap for sugaring. Maple syrup was an important food additive in early America because imported cane sugar was not yet available.
In the mid-1800's syrup production changed again. Round cauldrons were replaced by flat pans in order to increase surface area and therefore allow for faster evaporation. Over the next 60 year several variations on this design were patented. Draft animals were replaced by tractors and heating methods expanded to include propane, oil and natural gas as well as wood.
The 1970's represent another period of major changes in maple syrup production. Plastic tubing running directly from trees to the sugaring location eliminated the need for energy and time intensive sap collection. Reverse osmosis and pre-heating made syrup production more efficient. Recent advances have been made in sugarbush (maple trees used primarily for syrup production) management, filtration and storage.
There are two well known systems of maple syrup grading in use today. One system is used in Canada (where 80% of the world's maple syrup is produced) and another system is used in the United States of America. Both systems are based on color and translucence with relate to the flavor of the syrup. Different grades are produced by the same trees over the length of the season.
Since maple syrup recipes usually do not specify any particular grade to use, take into consideration that darker colored syrups will produce dishes that a have a pronounced maple flavor.
The Mohawk Valley Trading Company hours of operations are 7:00 a.m. to 7:00 p.m. EST, seven days a week. Reach them at (315)-519-2640 to learn more.