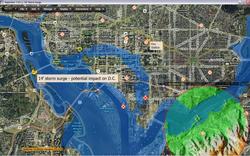 And while the new price of $199.00 better reflects the value of Depiction, we're still committed to keeping this technology affordable as we end the introductory price promotion.
Seattle, WA (PRWEB) July 21, 2009
Building on the growing customer response to its first months on the market, Depiction, Inc. has announced that the price of Depiction, its breakthrough mapping and simulation software, will be rising to $199.00 beginning August 1, 2009. The company also announced an enhanced educational webinar program, with a special event on July 23.
"Our introductory price program, selling Depiction mapping software for only $89, was an eye-opening experience. We've had early adopters in the emergency management, geospatial, and education fields ask us why we weren't charging hundreds or thousands of dollars for Depiction," said Depiction CEO Mike Geertsen. "And while the new price of $199.00 better reflects the value of Depiction, we're still committed to keeping this technology affordable as we end the introductory price promotion."
"This commitment is part of our goal with Depiction," Geertsen added. "And just one way of bringing formerly specialized, expert-only GIS, mapping and simulation capabilities to the everyday worker." Early purchasers of the technology include Los Alamos National Labs, Morehead State University, local government agencies in America and Europe, and American Red Cross chapters. Geertsen pointed to the story of Susan Pelaez, a Preparedness Director for the American Red Cross, as an example of Depiction's broad accessibility:
"Originally, I had only one person with access to Depiction, but after seeing more of its capabilities, I reevaluated our needs and decided that everyone on the team should be able to utilize this very valuable tool," said Pelaez. "I would like to compliment the Depiction staff for such a user friendly, valuable tool at a price point that allows nonprofits to equip their staff."
As the company expands its focus from early adopters to the general public, it is supporting that change with an increased emphasis on training and education. The company now offers weekly mapping software webinars every Wednesday to assist new and potential users in their use of Depiction.
On Thursday, July 23, Depiction, Inc. will be hosting a special webinar, as Navy Captain Kim Buike (ret.) presents "Scenario Depictions: Wildfires, Flooding and Security." In advance of the webinar, Depiction has released a web video demonstrating an example of a flooding scenario using the software. In the video, Captain Buike demonstrates the flooding that would result in the California's Central Valley from an earthquake that destroys the levee system holding back water from the agricultural land.
During the July 23, Captain Buike will be demonstrating the ways that Depiction users can build their own depictions of simulated natural disasters and other scenarios. The webinar will specifically demonstrate:

A depiction of a 15-foot storm surge devastating Washington, D.C. after traveling up the Potomac River, based on an actual event that happened in 1933, when the Chesapeake-Potomac Hurricane sent surge of 11.3 feet into the capitol;
An interactive depiction of a hypothetical security scenario at the 2010 Winter Olympic Games; webinar attendees will be able to contribute live to the unfolding scenario;
A demonstration of maintaining situational awareness during wildfire events and how Depiction can dynamically change evacuation routes, using a scenario set in San Diego county.
Depiction allows everyday users to combine data and images both from online sources and their own computer, creating dynamic, interactive maps and simulations. These "depictions" can be saved, stored emailed and used--even offline. Visit the Depiction website today to download Depiction's free 30-day trial, to check out example scenarios for applications such as sharing situational awareness, or to develop your own scenarios.
Depiction was developed by a privately-funded team in the Seattle, WA area--including former Microsoft staff, computer science PhDs from the University of Washington, a retired US Navy captain and base commander, active-duty firefighters, and a world-class team of software developers--all of whom are inspired by a deep belief that technology should be meaningful and accessible to everyday people. Designed to be a software platform, Depiction can be extended by its users, computer programmers and industry consultants who can create, share and sell their own "what-if" add-ons.
###