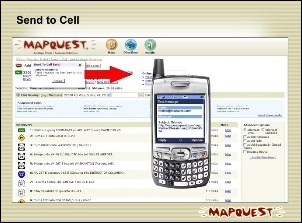 We are making it even easier for consumers to take the powerful MapQuest(R) desktop experience with them on their mobile phones at no charge
ORLANDO, Fla. (PRWEB) March 27, 2007
With the Send to Cell service, users can search for places and create maps and directions on their home or office desktop, and send that information to their cell phones by clicking on the "Send to Cell" link conveniently found through the MapQuest.com site. Then, while on the road, they can quickly access the information on their mobile device via a simple text link, and be directed to their turn by turn directions and detailed maps, all "right-sized" for their cell phones' Web browser.
"We are making it even easier for consumers to take the powerful MapQuest(R) desktop experience with them on their mobile phones at no charge," said Alan Beiagi, MapQuest Director of Wireless. "This is part of MapQuest's continued drive to broaden its capabilities by integrating its desktop service with wireless offerings."
Among MapQuest's "Send to Cell" features:
-- Users can create maps and driving directions utilizing advanced routing options (shortest time, shortest distance, avoid tolls, avoid highways), reverse directions and multi-point routing from the MapQuest.com(R) site, and send the complete information to their cell phone.
-- They can access the 15 million points of interest, places, driving directions and business listings from the MapQuest database and deliver the results to their mobile device, with "right-sized" maps and other mapping capabilities, including pan and zoom functions.
-- The service automatically detects if a user is a MapQuest(R) Mobile subscriber and delivers the best browsing experience.
-- Users can easily access the maps and directions sent to their phones via a text message containing a URL link.
MapQuest, recently named by industry reports as the most sought-after Web location on mobile devices,(2) is also making it easier for users to find places whether they're on-the-go or on their computer by simply typing in one address - http://www.mapquest.com. MapQuest automatically detects whether the user is on their phone or desktop, and directs them to an optimized MapQuest screen.
About MapQuest
MapQuest offers Internet, wireless and business solutions that help people find places. MapQuest is one of the most recognized and trusted brands on the Internet and is the leading consumer Web site for maps and directions, serving more than 45 million users in February, 2007, according to comScore Media Metrix. MapQuest, Inc., a wholly owned subsidiary of AOL LLC, is based in Denver, Colorado.
About AOL
AOL is a global Web services company that operates some of the most popular Web destinations, offers a comprehensive suite of free software and services, runs the country's largest Internet access business, and provides a full set of advertising solutions. A majority-owned subsidiary of Time Warner Inc., AOL LLC is based in Dulles, Virginia. AOL and its subsidiaries also have operations in Europe, Canada and Asia. Learn more at AOL.com
(1)Local carrier text message/data charges may apply
(2)Strategy Analytics Report, February 22, 2007