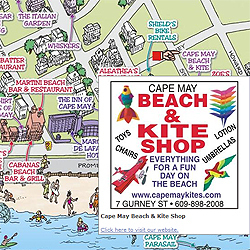 With MapsAlive, we were able to take the same maps that we print and quickly make them interactive at a very affordable price
Waitsfield, VT (PRWEB) June 4, 2008
AvantLogic, developers of MapsAlive, the premier interactive map and floor plan application, today announced that Resort Maps, a leading advertising map publisher, has integrated MapsAlive technology into more than 170 online maps. MapsAlive turns Resort Maps' hand drawn maps into interactive tours that let visitors explore communities and locate attractions, lodging, restaurants, shopping and other services. MapsAlive interactive maps also provide increased advertising opportunities because business ads are displayed when a visitor moves their computer's mouse over an advertiser's label on the map.
"With MapsAlive, we were able to take the same maps that we print and quickly make them interactive at a very affordable price," said Peter Hans, President of Resort Maps. "We can create and maintain the online maps ourselves making it easy to add or update advertisers at any time. The resulting interactive maps give advertisers increased exposure on the web, and visitors a unique way to learn about travel destinations."
All of Resort Maps' online interactive maps use the new categorized directory feature in MapsAlive. This unique feature allows visitors to locate advertisers by searching or browsing the directory and "clicking" to go directly to the advertiser's location on the map. The interactive ads include links to each advertiser's own website so visitors can obtain more information.
The MapZoom feature lets visitors zoom in or out to view more or less detail. Visitors may also drag the map with their mouse to get to different areas on the map. And, the maps are seamlessly integrated with the Resort Maps website.
"Because MapsAlive requires no programming, Resort Maps is able to use their non-technical staff to create and maintain all of their maps," said George Soules, President of AvantLogic. "They never have to pay a web developer to do the work for them. With so many maps and advertisers, the annual cost savings from using MapsAlive is tremendous."
To learn more and try MapsAlive, visit: http://www.mapsalive.com. To view the interactive maps produced by Resort Maps, visit: http://www.resortmaps.com.
About AvantLogic
AvantLogic is the creator of MapsAlive, a web application that can make any map interactive for use on web pages. A map can be any image such as a diagram, floor plan, photo, or geographic map. Interactive maps allow viewers to move their mouse over markers to quickly gather information and see images and text associated with locations on the map. MapsAlive is popular among residential and commercial real estate professionals, and is also used to create interactive location maps and web content for travel and tourism, education, and law enforcement.
Based in Waitsfield, Vermont, AvantLogic was founded in 1999 as a software consulting company specializing in web applications, commercial grade software, and safety-critical computer systems. Clients include ABC Television, Bombardier, DaimlerChrysler and the New York Power Authority. AvantLogic launched MapsAlive in 2007, and is now focused on making MapsAlive the premier tool for creating online interactive map tours.
About Resort Maps
Resort Maps began creating and publishing advertising maps in the northeastern U.S. in 1986. By 1992 they were distributing millions of maps in 15 towns throughout the northeast. The Resort Maps network has grown steadily since adopting a franchise model in 1993 and there are now nearly 90 Resort Maps in publication in the US and the UK and several more to be released soon. Nearly 20 million Resort Maps will be printed and distributed this year.
Contact:
Janice Kenyon
802-496-9140
http://www.mapsalive.com/
###