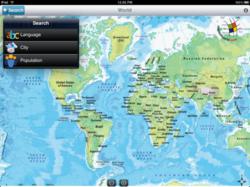 San Jose, CA (Vocus/PRWEB) March 02, 2011
Ask anyone acquainted with an atlas, and the long-suspected is confirmed: While everyone loves the beautiful maps and interesting facts an atlas offers, those high-quality pages are not easily portable. This recent development has that soon changed.
MapsofWorld.com introduces World Atlas, a free iPad app currently available through iTunes. World Atlas meets the need for a concise and elegantly designed digital atlas that allows the user to access the app offline.
When launched on the iPad, the app displays a complete view of the world map. Users can double-tap a country to view a more detailed map, making it convenient to browse each country individually. The 3-D relief representation makes the maps visually appealing. Additionally, useful information about GDP, languages spoken, religions, and more is available for every country.
Custom searches based on language, city, population and legislature, as well as pre-built categories such as "Ten Most Populated Countries" make it a great tool for everyone – students, researchers, travelers, teachers and enthusiasts alike. The 'browsing history' feature makes it convenient to relocate countries previously searched.
For those seeking more, the app provides integration with Wikipedia as well as the Map Store, where users can buy digital and wall maps from the MapsofWorld.com's online store.
MapsofWorld.com has already created a successful web portal that provides world maps in many categories and classifications. The website currently ranks among the top 1,000 in the US, according to Quantcast. The company is renowned for providing high-end, quality to various prestigious international atlases.
The free World Atlas app grows more popular every day and has been among the top-rated on the iTunes store. As demand increases for the continued use of atlases, competition increases. Ultimately this is good news for end users.
For more information about MapsofWorld.com and its products, contact:
MapXL Inc.
10 S, Third Street, Suite 310,
San Jose, CA 95113
+(408)-326-9371
mani(at)infobase(dot)in
###