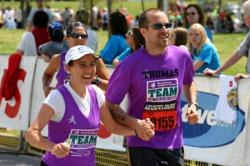 The key to fundraising success is always direct donations and lots of reminders.
San Francisco, CA (Vocus/PRWEB) July 22, 2011
Many people who join The Leukemia & Lymphoma Society (LLS)'s Team In Training (TNT) seek the physical challenge of a marathon, triathlon, cycle century ride or hike adventure and the sense of accomplishment that comes with it. The satisfaction that comes with fundraising for a good cause tends to be an added benefit.
Not so for Thomas Caleshu.
Caleshu was diagnosed with Hodgkin lymphoma when he was just 13, and this year he celebrates 20 years of being cancer free. Determined to ensure that no other 13-year-old has to go through a similar experience, he set out to raise $20,000 in a campaign he named "20for20K." And he wanted to do it through Bay Area marathon training group Team In Training.
"It was a bit of an atypical process. My wife and I came up with the catchy phrase first," said Thomas. "We knew we wanted the funds to go to LLS, and Team In Training was the natural fit. Given my own cancer history, it is very inspiring to see teammates knowingly push themselves to the limit for a cause."
Thomas and his wife Colleen met and fell in love through TNT, and are both seasoned fundraisers. They knew they had to have a solid strategy to raise $20,000, especially in a down economy.
With the help of their good friend Willow Harrington, Thomas and Colleen devised a fundraising timeline to get them to their goal. They broke the $20,000 down into $5,000 increments and brainstormed possible events that their friends and connections could help with. The winning recipe for fundraising success was a combination of direct donations and three key fundraising events: an elegant dinner prepared by former French Laundry Chef Jesse Fox, a performance cycling ride with Ironman Champion Meredith Kessler, and an impressive online auction with all sorts of highly-prized goodies.
In the end, Thomas and team "20for20K" raised $20,770.
"The key to fundraising success is always direct donations and lots of reminders. And if you have to take on a fundraising event, pick your battles and pay attention to what you can do realistically," said Thomas.
What's truly inspiring is that even after surpassing his fundraising goal, Thomas is relentless in helping find a cure. He has pledged to return to the TNT Triathlon Team in the spring to train and fundraise again in honor of a friend who was recently diagnosed. In the mean time, he plans to take a break and a belated honeymoon in New Zealand.
Team In Training is now forming teams in the greater Bay Area. TNT offers marathon, half-marathon, cycle triathlon and hike training programs for people of all fitness levels. Upcoming events include the Nike Women's Half Marathon, Big Sur Half Marathon, Marin County Triathlon, Solvang's Finest Century Ride, hikes at the Tahoe Rim Trail and Zion National Park, and many others. Learn more at http://www.teamintraining.org/sf/?utm_source=sfgatelist&utm_medium=webpage&utm_campaign=general or call 800-78-TRAIN to speak to a live representative.
About Team in Training
Team In Training (TNT) offers Bay Area triathlon training, marathon training, and half marathon training. TNT began in 1988, when Bruce Cleland of Rye, NY formed a team that raised funds and trained to run the New York City Marathon in honor of Cleland's daughter Georgia, a leukemia survivor.
The team of 38 runners raised $322,000 for LLS's Westchester/Hudson Valley Chapter. Because of the pioneering efforts of Cleland and the Westchester/Hudson Valley Chapter, Team In Training was born and has grown into the world's largest endurance sports training program. Cleland was honored by Runner's World magazine in 2004 as one of their "Heroes of Running" for his role in establishing TNT.
Whether participants choose The Leukemia & Lymphoma Society's traditional Team In Training program or TNT Flex, a flexible, customized online training option developed by TNT's renowned coaches, they get all the support they need to cross the finish line at the marathon, half marathon, triathlon, century ride and hike adventure of their choice. Both offer a choice of world-class events, travel arrangements to an exciting destination, and a fabulous, activity-filled weekend once they're there.
About The Leukemia & Lymphoma Society
The Leukemia & Lymphoma Society (LLS), headquartered in White Plains, NY, with 68 chapters in the United States and Canada, is the world's largest voluntary health organization dedicated to funding blood cancer research and providing education and patient services. The LLS mission: Cure leukemia, lymphoma, Hodgkin's disease and myeloma, and improve the quality of life of patients and their families. Since its founding in 1949, LLS has invested more than $750 million in research specifically targeting leukemia, lymphoma and myeloma.
For more information about blood cancer, visit http://www.LLS.org or call the LLS Information Resource Center (IRC), a call center staffed by master's level social workers, nurses and health educators who provide information, support and resources to patients and their families and caregivers. IRC information specialists are available at (800) 955-4572, Monday through Friday, 9 a.m. to 6 p.m. ET.
# # #