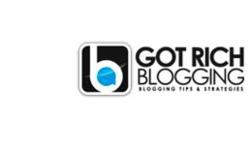 Small businesses not utilizing a blog to its fullest potential may find themselves disadvantaged.
FORT LEE, New Jersey (PRWEB) February 17, 2013
Effective blog development and content are the keys to successful business blogging, according to the latest blog from GotRichBlogging.com. Titled, "Blogging for Small Businesses," this newest advisory article offers tips on the best uses of blogging as a promotional tool for a business and to enhance online presence.
Since the goal is to generate new revenue sources for a business, small businesses not utilizing a blog to its fullest potential may find themselves disadvantaged when it comes to their Web experience. But business owners and managers who lack tech savvy talents or resources, following a few simple guidelines to build a dream blog doesn't have to be out of reach.
According to GotRichBlogging.com, two key factors can make or break a successful blog: development and content. When it comes to blog design and setup, less is more. For those less experienced in setting up a blog, the trick is to keep it simple and focus on function, ease of use and aesthetics during the development process. If users have trouble navigating a blog, they won't be back.
Once a commitment has been made to building a blog, it is critical that new posts go up regularly. Great blogs can attract high volumes of traffic since they offer consistent and reliable information to users. Blog readers expect to be engaged, interested and educated. They do not want to be bombarded with advertisements.
GotRichBlogging.com offers a few ways to utilize a blog to increase web traffic without directly promoting your business:

Share thoughts on new trends and products in the company's industry.
Build online partnerships with other businesses in the industry.
Offer tips and information on topics related to the industry.
Help readers understand complicated issues within the industry, such as legal issues.
Discuss new regulations or laws that affect the industry.
An effective blog elicits credibility as a trusted source of information within the industry. Over time, businesses with a blog people return to regularly will experience increased business.
For more information on developing a successful business blog, visit the GotRichBlogging.com website or Email info@GetRichBlogging.com.
About Marble Media LLC:
Marble Media LLC is a creator of high-quality, content-rich blog sites that provide expansive coverage of relevant information to readers who make up a wide range of demographics. The Marble Media LLC team of expert writers covers a wide range of specialties including travel, food, health, fitness, social media, marriage, parenting, technology, weight loss, fashion and much more.
For more information on Marble Media LLC's offerings and advertising opportunities, visit the MarbleMediaLLC.com website, or Email sales@marblemedia.com.
###