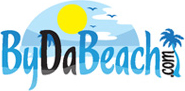 The real problem is the fact that these items are washed away into the surf, or embedded in the sand to litter the earth and its oceans for hundreds of years.
Fort Lee, New Jersey (PRWEB) May 06, 2013
Most parents have experienced the sight of a beach ball carried off in a sandy gust of wind, or arriving home after a long, exhausting day at the beach only to discover that one or more of the kids' plastic beach toys were accidentally left in the sand. The real problem with left-behind beach toys is not the loss of the item – they're largely inexpensive and easy to replace.
The real problem is the fact that these items are washed away into the surf, or embedded in the sand to litter the earth and its oceans for hundreds of years. This type of pollution is extremely problematic, as it threatens entire species of marine life and other wildlife.
In the latest blog from the ByDaBeach.com website titled, "Meet the First Biodegradable Beach Toys," guest blogger Liz Ernst introduced readers to a new line of environmentally friendly beach toys that are biodegradable. If left behind, these buckets, shovels, and various accoutrements will break down in two or three years, a far cry from the hundreds of years it takes for traditional plastic toys to deteriorate.
Part of the Zoe b Organic Fantastic Beach Toys collection, these colorful beach play sets come with a square bucket with a patterned cutout lid for sifting sand and creating shapes. The environmentally conscious Zoe b Company also tucks a shovel and two cups in the biodegradable bucket; every item is made from corn instead of petroleum – no toxic chemicals whatsoever.
Despite their biodegradable nature, the toys are quite durable, according to Ernst. They're perfect for toddlers too, since each toy has no small pieces or screws that might present a choking hazard. Two cutouts on the bucket's sides serve as carrying handles, meaning no external handle that might come off to worry about.
"Every family with kids young enough to play with beach toys should consider these," Ernst says. "Traditional plastic beach toys are contributing to a gigantic (and growing) plastics dump at the bottom of the world's oceans, killing habitats and whole species in the process.
"These biodegradable toys are a great way to teach children to be environmental stewards, and they're actually cute, colorful and fun."
ByDaBeach.com is a handy tool for vacation planners searching for accommodations at many of the world's most exquisite coastal vacation locations. For more information, visit the ByDaBeach.com website or email info(at)ByDaBeach(dot)com.
About Marble Media LLC:
Marble Media LLC is a creator of high-quality, content-rich blog sites that provide expansive coverage of relevant information to readers who make up a wide range of demographics. The Marble Media LLC team of expert writers covers a wide range of specialties including travel, food, health, fitness, social media, marriage, parenting, technology, weight loss, fashion and much more.
For more information on Marble Media LLC's offerings and advertising opportunities, visit the MarbleMediaLLC.com website, or email sales(at)marblemedia(dot)com.