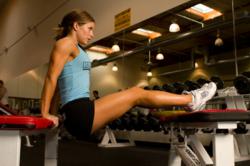 Dips work a number of different muscle groups and don't require much in the way of equipment.
FORT LEE, New Jersey (PRWEB) June 20, 2013
Even when it's not convenient to get to the gym, folks who are conscientious about their fitness regimen can still get in their upper body strength training from their office, home or hotel room with two sturdy surfaces on the same level to place hands, and enough space between to lower and lift the body.
In the June 14 blog titled "Dips for Upper Body Strength," Fitness Connoisseur blogger Liz Ernst discusses working out with dips to tone and strengthen the upper body. In some ways, Ernst says, dips can be compared to the common pushup.
"Dips work a number of different muscle groups and don't require much in the way of equipment," Ernst says. "If performed correctly, dips will strengthen your triceps, deltoids, pectorals and back muscles.
"Further variations can target your core as well, and they're convenient for those circumstances that prevent you from accessing a dip bar."
In order to perform dips, Ernst says that most people usually use their gym's dip bar. However, the motivated fitness fan will make due with whatever is available. It is important to have two sturdy surfaces that are one body width apart, hip high, and capable of holding a person's body weight safely.
Dips without the use of a dip bar can be tricky, and should always be attempted with caution, Ernst says.
For those working out at home, office or in a hotel room, two tables, chairs, chests or other surfaces that are sturdy and on the same level should work. Position the furniture to create a gap between them, and stand between the two pieces, place one hand on each and start dipping.
Office chairs or other types of chairs with sturdy handles may work, provided the chair is sturdy and stable. Chair dips are convenient for those who are stuck in an office all day, and can be done in brief intervals throughout the day, making sure to engage the upper body, especially the arms.
FitnessConnoisseur.com offers a variety of options to stay motivated and keep the fitness routine fresh and fun. For more information, visit the FitnessConnoisseur.com website or email info(at)FitnessConnoisseur(dot)com.
About Marble Media LLC:
Marble Media LLC is a creator of high-quality, content-rich blog sites that provide expansive coverage of relevant information to readers who make up a wide range of demographics. The Marble Media LLC team of expert writers covers a wide range of specialties including travel, food, health, fitness, social media, marriage, parenting, technology, weight loss, fashion and much more.
For more information on Marble Media LLC's offerings and advertising opportunities, visit the MarbleMediaLLC.com website, or email sales(at)marblemedia(dot)com.