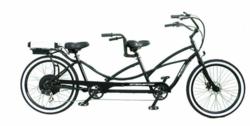 A romantic Victorian ideal tricked out 21st century style.
Fort Lee, New Jersey (PRWEB) May 21, 2013
Tech gadgets are getting bigger, at least in the case of the tandem Interceptor electric bicycle built for two riders by Pedego. In the latest blog from TechConsumer.com titled "An Electric Bicycle Charged for Two", guest blogger Liz Ernst takes a look at a romantic Victorian ideal tricked out 21st century style.
Electric bikes have become wildly popular in recent years, and the tandem Interceptor from Pedego is a head-turner, with its classic styling and powerful motor that can get riders going 20 mph and faster. Available from Hammacher and Schlemmer, the Interceptor is the perfect easy rider for all active couples who love the outdoors. It's also advertised as the most eco-friendly mode of carpooling on earth.
Featuring a lightweight motor attached to an Amsterdam-style frame with sloping top tube, this is one tandem bike that is easy to mount and comfortable to ride, with ape hanger handlebars and chunky padded seats.
Made of sturdy aluminum, the Interceptor can carry up to 500 pounds, and a single battery charge can take riders up to 25 miles depending on usage, weight and terrain. The Interceptor is a versatile ride, whether operated with pedal power or battery power. Riders don't have to break a sweat when they hit a challenging hill, and have the option to return to old school pedaling fun on level pavement.
Priced at $3,400, the tandem Interceptor is an eco-friendly indulgence for anyone who enjoys commuting by bike.
For more information, visit the TechComsumer.com website or email info(at)techconsumer(dot)com.
About Marble Media LLC:
Marble Media LLC is a creator of high-quality, content-rich blog sites that provide expansive coverage of relevant information to readers who make up a wide range of demographics. The Marble Media LLC team of expert writers covers a wide range of specialties including travel, food, health, fitness, social media, marriage, parenting, technology, weight loss, fashion and much more.
For more information on Marble Media LLC's offerings and advertising opportunities, visit the MarbleMediaLLC.com website, or email sales(at)marblemedia(dot)com.