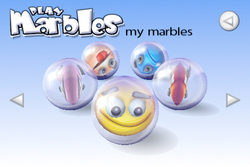 Many people have forgotten the sport of marbles; it's been overshadowed for years by video games and other high-tech pastimes and we'd like to bring marbles back into style.
Manchester (PRWEB) July 29, 2009
Darkside Entertainment Ltd and Eclipse Interactive Ltd announced today that the new title, Play Marbles, is now available on the App Store priced at just £1.19 ($1.99.)
Simple to pick up and play, Play Marbles follows the tradition of competition, sportsmanship, and good clean fun. Play Marbles offers a simple yet hugely addictive game of skill, determination and imagination. Play Marbles recreates the simplicity of the original game and provides a slew of fresh content, customization, and the ability to connect and compete with friends. Regular upgrades, with a large variety of new collectibles, game arenas; play modes and customizable features will keep the game fresh and amusing.
There's a lot here for both avid marbles fans and novice marble rollers alike, with an expanding array of unique and themed marbles for players to unlock and collect. These sets will range from new themes, specialist advertising marbles, marbles of particular rarity or historical value, and player customized marbles (created by importing photos). Players will also be able to design their own personal limited edition Marbles sets.
The game's intuitive controls and simplified interface allow for a quick learning curve, which means players of all ages and skill levels can enjoy this game. Easily accessible, but tough to master, Play Marbles is perfect for casual and core gamers to play together.
Darkside Entertainment will soon be launching the Play Marbles web site and announcing the Pimp Your Marbles Design Contest, inviting everyone to show off their creative skills by designing a set of marbles for inclusion in the Play Marbles game. Darkside Entertainment is hoping that Play Marbles will demonstrate that marbles are fun to look at, fun to play with, fun to collect, and now fun to create.
"Many people have forgotten the sport of marbles; it's been overshadowed for years by video games and other high-tech pastimes and we'd like to bring marbles back into style." said Nic Garner, Managing Director of Darkside Entertainment. "Play Marbles is a simple concept, providing an entertaining game, which makes playing marbles fun again. We believe that Play Marbles will enchant marbles fans new and old, players, collectors, and dealers, and anyone simply delighted by the lighthearted appeal of these splendid glass spheroids in all their beauty."
One of the most satisfying and rewarding aspects of Play Marbles is collecting and designing your own marbles. The marbles are the stars of Play Marbles and sport a little more personality than your average marble. Everyone can insert themselves into a marble and roll with it, and potentially design and own their own unique and exclusive marble sets.
The beauty of a marble is that any design can be placed inside or around it. It therefore lends itself perfectly to in-game advertising. Consequently, Darkside Entertainment is encouraging advertisers to consider sponsoring future marble sets, arenas, and contests.
If you haven't got any marbles (or indeed if you've lost yours) then try Play Marbles; customize your own marbles and roll your way to victory.
To purchase Play Marbles, please visit the App Store at: http://itunes.apple.com/WebObjects/MZStore.woa/wa/viewSoftware?id=323694495&mt=8
View the Play Marbles trailer at: http://www.youtube.com/watch?v=17mJmMn2-1E
Follow us on twitter: http://twitter.com/PlayMarbles
Join us on Facebook at: http://www.facebook.com/home.php?ref=home#/group.php?gid=97869298804&ref=mf
Play Marbles web site coming soon: http://www.playmarbles.co.uk
NOTE TO EDITORS:
About Darkside Entertainment Ltd
Darkside Entertainment Ltd's first product, Play Marbles, part of its new "Play Things" range, is now available on the App Store.
Darkside Entertainment's philosophy is that entertainment product must appeal to a mainstream audience but at the same time be inventive enough to make the product feel special and personal. Darkside Entertainment's key objective is to provide creative ways for people to do what they like best - interact with each other because, when all said and done, it's people playing people that makes games fun.
Taking the view that games should not be technology demos but easy to enter social events, Darkside Entertainment's products are developed to encourage participants to personalize and define the type of experiences they want. To this end, the Darkside Entertainment experience does not simply happen "to" people, but happens "because" of people. What makes Darkside experiences so compelling are the people involved in them and the social interactions between them.
For more information about Darkside Entertainment Limited please visit http://www.darksideentertainment.co.uk or contact press(at)darksideentertainment(dot)co(dot)uk.
Follow us on twitter: http://twitter.com/DarksideEnt
About Eclipse Interactive Ltd
Eclipse Interactive Ltd is a developer of cutting-edge entertainment digital download platforms. Based in Manchester UK, Eclipse Interactive creates "softoys" based on original IP and in partnership with leading entertainment providers eager to bring their properties to digital markets.
The Eclipse team has developed games for every platform from Amiga to mobile. Eclipse has the resources and technology to create and deploy high quality entertainment content to virtually any gaming device on the planet. Having worked on numerous 'AAA' titles, the Eclipse team understands what it takes to provide the highest quality product within a given time frame.
For more information about Eclipse Interactive Limited, please visit http://www.eclipseinteractive.co.uk or contact development(at)eclipseinteractive(dot)co(dot)uk or press(at)eclipseinteractive(dot)co(dot)uk
Follow us on twitter http://twitter.com/EclipseInt
Contact Information:
Ann Garner
Darkside Entertainment Ltd
07720 404611
ann(dot)garner(at)darksideentertainment(dot)co(dot)uk