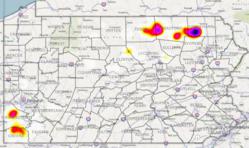 In Pennsylvania, the Marcellus Shale Play is starting to deliver a return on investment...
Lancaster, Pennsylvania (PRWEB) October 11, 2011
The latest Marcellus gas production data released by the Commonwealth of Pennsylvania shows The Marcellus Shale Play is starting to pay a significant return on investment. As of June 30, 2011, 1,655 wells reported gas production, representing a thirty-seven percent increase over the number of producing wells for the previous report period ending December 31, 2010. Eighty-three of the wells fall within the top 95th to 100th percentile range with daily average production of between 7,147 to 22,276 Mcf (thousands of cubic feet) as calculated when their total reported production is divided by the total number of production days since the well was first placed into service. Eight of these top producing wells have reported production for more than one year.
According to marcellus monitor™, the Pennsylvania counties with the highest number of wells producing at or above the 95th percentile in average daily production include Susquehanna (44) followed by Bradford (23) and Greene (12). Operators with the most number of wells statewide reporting average daily gas production exceeding the 95th percentile of all producing wells include Chesapeake Appalachia LLC (34) and Cabot Oil and Gas Corporation (31).
Making geographic sense of well production and the highest producing areas is a challenge without the benefit of marcellus monitor™, a powerful interactive web mapping service offered by geographIT®. New data search tools in marcellus monitor™ enable searching and mapping Marcellus Shale gas production data by percentile, total production to date, or average daily production to date and new bar and pie charting tools are available to analyze search results by counties and well operators. A well production hotspot map reveals a trend surface of where the highest average daily well production has been reported during the last report period. Individual Marcellus wells are also mapped and symbolized by their average daily well production percentile rank relative to statewide average daily production values. marcellus monitor™ subscribers are now able to download the latest available well permit and production data for Pennsylvania as Geographic Information System (GIS) shape format files. A one week free trial is available for individuals who are interested in trying out marcellus monitor™ before deciding whether to subscribe to the on-line service.
"Marcellus well permit data are updated weekly and well production data are released bi-annually by the Commonwealth of Pennsylvania," said Bruce Stauffer, vice president of geographIT® . "marcellus monitor™ adds value by providing on-line access to the latest data with tools to search, map, and analyze Marcellus well production data. Not only can the service be used by investors investigating top natural gas producers in Pennsylvania, it can also be used by energy companies looking where to drill new wells based on geographic areas reporting high average daily production values. And, even property owners who are considering whether to enter into a well lease might benefit if they review well productivity in their surrounding community because they might be able to negotiate more attractive lease terms if they own property in high production areas."
About the Company:
geographIT® specializes in providing professional Geographic Information System (GIS) services and implementing geospatial technology solutions for state and local governments, utilities, energy companies, and private businesses. Professional services include implementation planning; system design, custom web and mobile software developed according to customer specifications, and system integration services. Founded in 1990, the company is headquartered in Lancaster, Pennsylvania, with a branch office in Baltimore, Maryland.
###