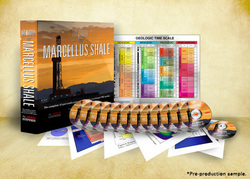 I would like to commend Ron Morris for doing a good service…in presenting facts on a subject that is important to the people in your area, and to the whole Country.
Pittsburgh, Pennsylvania (PRWEB) March 1, 2011
The American Entrepreneur Radio (TAE), a Pittsburgh-based radio program that specializes in western Pennsylvania Entrepreneurial and Business related issues, today announced the availability of an audio version of its acclaimed radio series entitled, "The Truth About the Marcellus Shale."
TAE is the operating arm of Pittsburgh Business Radio (PBR); broadcasting regularly since 1999. TAE is hosted by Ron Morris, a serial entrepreneur and business owner who is also the Director of the Entrepreneurial Studies Program at Duquesne University. Morris and his colleagues at PBR, noticed significant misinformation about the Marcellus, and as such decided to produce a series of twelve two-hour programs on the topic. They identified and then interviewed more than 40 experts on various Marcellus-related topics, the result being perhaps the most comprehensive series of interviews ever done on what most western Pennsylvanians consider to be, "an economic Godsend" for the region.
"The last straw for us was a debate between Josh Fox (producer of the Academy award nominated 'Gasland') and Chris Tucker. There were so many conflicting assertions made that day that we decided to produce this series, shining the spotlight of truth on all facets of the project. We ultimately produced twelve two-hour shows, each show featuring interviews with at least four of the experts."
Topics investigated include: the (geologic) history of the Marcellus; the fracturing, or "fracking" process; horizontal drilling; water mediation and remediation; advice to landowners looking to lease their properties; entrepreneurial opportunities; and economic benefits, including analyses of potential tax revenues.
"We looked at the Marcellus from every conceivable angle," said John Poister, PBR's news director, "we wanted this series to be both comprehensive and factual. Our guiding premise was the truth. We didn't care what our experts had to say in each of their respective areas of expertise, so long as it was supported by hard and verifiable facts."
Assisting Morris in this project is Mr. Mark Laskow, himself a 20-year veteran of the shale gas fields of Louisiana, Arkansas, Texas, and Alabama. "Mark provided the technical questions while I tried to do my level best to ask the questions that the average person would want asked," said Morris, "This series of audio CD's should enable anyone, and regardless of their technical skill level, to get their arms around exactly what the Marcellus is all about. Already, we've had product orders from: people in real estate, people who have leased their land to drillers, and entrepreneurs looking for opportunities. Perhaps the most frequent expressions of interest, though, have come from executives and workers in the Marcellus industry."
PBR went back and completely re-mastered the entire sound track. Additionally, the package (which is enclosed in a three-ring binder) includes charts, graphs, and "insider" white papers originally created by expert/guests. All interruptions, including commercials and public service announcements, have been carefully edited away.
"It's important listening," said Poister, "anyone willing to digest and understand the content in this binder will find themselves as knowledgeable as any 'outsider' can possibly be." Poister continued, "What's more, the additional graphs and charts help to illustrate a lot of the points our experts make along the way."
As an accommodation to its listening audience, PBR is offering a special pre-publication price of $149.99 with further discounts for multiple orders. (The post-publication price is $199.99.) The final scheduled broadcast is on Friday, March 25, which will mark the end of pre-publication pricing.
For those interested in hearing these shows in real-time, TAE broadcasts one show segment each Friday, from 3:00 to 5:00 pm EDT. For those unable to listen on terrestrial radio, TAE both streams its content on TAEradio.com and offers its programming on Talkshoe.com and Blogtalkradio.com. Talkshoe and Blogtalk are two of the most popular interactive listening sites available today.
Those seeking more information or wishing to order these CD's may do so by visiting: http://www.taeradio.com/marcellus-shale-audio-series/
For bulk orders or to set up a licensing agreement contact: Andrew Rossi at Andrew(at)taeradio(dot)com or 412-875-4844.
##