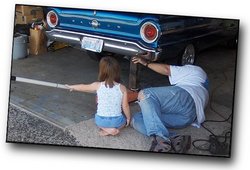 Enter Your Photos for a Chance to Win $100. Cars, Trucks, Motorcycles, Snowmobiles, Hot Rods, Customs, etc.
Debary, FL (PRWEB) March 5, 2011
The Motor Bookstore wants more customer photos for their website, blog and facebook page, and the best photo submission will win 100 bucks.
The photo contest is open to customers and visitors of The Motor Bookstore websites. No purchase necessary.
To enter, entrants must submit via email a photo or photos of themselves with their car, truck, motorcycle, snowmobile, outboard engine, jetski, 4X4... even their weed wacker if they want to, or just a photo of the vehicle itself.
Submissions must also to include the entrant's name, city and state, along with a little information about themselves and their vehicle.
Contestants can get as creative as they like as far as the setting of the photo. Still or action pics (while keeping it safe and legal, of course) are welcome. And entrants may submit as many photos as they like.
The Motor Bookstore will rate photos by location or setting, creativity and the vehicle itself, and a winner will be chosen by the first week of May 2011.
Luis Hernandez, Jr., Chief Executive Motorhead at The Motor Bookstore commented, "What started as a simple 'Send us your photos and we'll publish them project,' has grown into a fun way for our company to interact with our customers, so we've turned it into a bigger contest and added a little cash incentive. We hope this will motivate folks to submit lots of new and fun photos for our websites."
Contest deadline is Saturday, April 30th. The Grand Prize winner will be notified via email.
Digital photos and information must be sent to: photos(at)themotorbookstore(dot)com. All submissions will be automatically entered in the contest.
The Motor Bookstore's Photo Contest Rules are available at, http://www.themotorbookstore.com/your-photo-here.html.
The Motor Bookstore, http://www.themotorbookstore.com
The Motor Bookstore Facebook Page, http://www.facebook.com/TheMotorBookstore
The Motor Bookstore Blog, http://themotorbookstore.blogspot.com
###