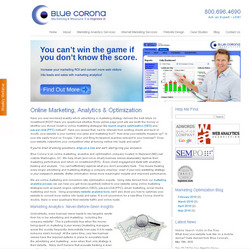 "To hire a full time employee to manage your online marketing would cost you in excess of $7,500 per month (and that doesn't even include the required tools or your advertising budget)"
Gaithersburg, MD (PRWEB) March 22, 2011
Small to medium sized business owners often find themselves wearing many hats (frequently too many hats!). From hiring and recruiting to managing the company and day-to-day operations - days can be long and intense without much downtime. Marketing and advertising campaigns, while incredibly important for business growth, tend to fall to the bottom of the daily priority list and setting up online marketing campaigns requires specialized skills and tools unfamiliar to many business owners.
At the same time, few small businesses have the resources required to hire a full time employee to handle their website and online marketing - an investment that can easily cost $10,000 per month.
Blue Corona, a top SEO company in Maryland, has created two new services specifically designed for small and medium sized businesses.
The first is a "Virtual Online Marketing Manager" service designed to provide an all-inclusive solution and give small and medium sized businesses an online marketing professional at a fraction of the cost of a full time employee! Packages start at just $1,500 per month and include tracking, SEO and pay per click advertising.
Marketing measurement and website tracking is at the core of every plan to allow business owners to see exactly which of their marketing strategies are yielding the highest returns.
The second service is designed to help small business owners take advantage of the evolving social media landscape. Blue Corona has hired a leading social media expert to help small businesses better utilize websites like Facebook and Twitter. Every business can benefit from having a social media presence for marketing and for customer service., but few small business owners know where to begin.
Businesses that naturally have communities of loyal customers around them are particularly well-suited to greatly benefit from social media.
Blue Corona will be introducing a suite of tools for clients to effectively monitor their brand online, engage with their fans and followers and discover new prospective customers. Run promotions and giveaways through your Facebook page to encourage new fans and customers to promote your business in a fun and effective way!
Blue Corona is investing in helping clients create measurable marketing results and the introduction of these two new services takes that mission to a whole new level. The new turnkey online marketing services along with the introduction of social media marketing provides our clients with even more tools to effectively market their company online.
For more information about either service, visit http://www.bluecorona.com or call 301-591-9397.
# # #