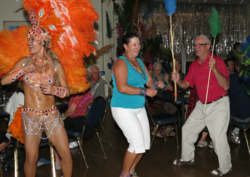 All the planning is well worth it when I see just how excited and into the events the guests get! One woman stayed up late sewing a costume for her dog to wear in the Pet Parade. - Michelle Graham, Events Director at Emerald Desert RV Resort
San Diego, CA (PRWEB) March 02, 2012
Sunland RV Resorts, an RV Park and Resort Company specializing in outdoor hospitality, welcomes spring with a full calendar of events to help RV travelers make their March 2012 expedition plans. Sunland RV Resorts owns and operates seven RV parks and resorts from Palm Desert to San Diego. Throughout the seven resorts, there are more than eleven diverse events scheduled to keep the RV community engaged and entertained.
According to the RV park and resort company, the experience of staying at one of their properties should reflect the service and hospitality expected at a fine resort. Regardless of the size of the park, Sunland RV Resorts amenities include entertainment, from cable TV to concerts and dinners. The month of March at Sunland RV Resorts will be packed with celebrations from pool parties to parades. Paralleling the recent Oscar Awards, Golden Village Palms RV Resort in Hemet, California will be hosting an Academy Awards-like Gala and Dinner. Several of Sunland's more quaint San Diego properties take advantage of holidays such as Valentine's Day and St. Patrick's Day to throw events and dinners for their visitors.
Sunland RV Resorts March Special Events:
Emerald Desert RV Resort, Palm Desert
Online Reservations Available

March 2 - Annual Emerald Desert Pet Parade
March 14 - Spring Fling Dinner and Dance
March 17 - St. Patrick's Day Pool Party
March 21 Golf and BBQ
Golden Village Palms RV Resort, Hemet
Online Reservations Available
March 3 - Beer Fest
March 9 - Fiesta Dinner and Show
March 15 - Academy of Palms Awards Dinner Gala
March 19 - Cover Band Concert with The Four Tops Revue
Oak Creek RV Resort -

March 24 - St. Patrick's Themed Dinner Party
Circle RV Resort -

March 17 - St. Patrick's Day Dinner
Vacationer RV Park -

March 18 - St. Patrick's Day Pizza Party
Photographers capture the majority of Sunland events, so those who cannot make the events can still witness the fun. Photographs of past events can be viewed on Sunland's websites and on Facebook.
About Sunland RV Resorts:
Sunland RV Resorts is an outdoor resort hospitality company established to develop strategic outdoor resort travel destinations in America with accessibility to world famous Southern California destinations. With seven resorts throughout Southern California from Palm Desert to San Diego, Sunland RV Resorts offers a range of amenities and recreation activities both on and near resort locations, giving our guests the best the RV industry has to offer in outdoor hospitality.
###