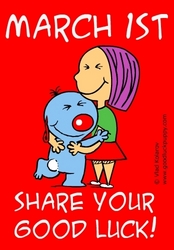 "It's only fair that we should have a Good Luck Day," said Vlad Kolarov. "Life is what we make of it. If we are positive and do good deeds, we will receive the same. We need to believe in Good Luck and good things will happen."
Vancouver, BC (PRWEB) February 25, 2010
Artist and Cartoonist, Vlad Kolarov announced today that he is proclaiming March 1st to be the International Good Luck Day.
According to some reports, around 400 million people use Facebook on a regular basis. Kolarov, creator of the Good Luck Puppy, is set to reach out to the largest online community and invite them to celebrate March 1st, the International Day of Good Luck.
Luck has many names -- fate, destiny, good fortune, karma... It is a part of our life, whether you believe in it or not. Luck is the essence that makes dreams come true for those who work hard and believe.
For ages people have been mystified by the ways of good and bad fortune, which in reality is the perpetual fight of good and evil. Nowadays we need more than ever to have faith in our future. We all need good luck.
"While I was working on my new Good Luck Puppy book, I realized that although we have a Bad Luck Day (Friday the 13th), we have no official day that celebrates specifically Good Luck. St. Patrick's Day is the closest holiday I can think of, but of course it has other meanings too", said Kolarov.
And while the Good Luck Puppy teaches kids how to study and work hard so they can find their Good Luck in life, the Good Luck Day will remind all grown ups what's valuable in life and hopefully help facilitate donations to children's projects.
"It's only fair that we should have a Good Luck Day," said Vlad Kolarov. "Life is what we make of it. If we are positive and do good deeds, we will receive the same. We need to believe in Good Luck and good things will happen."
That's why Kolarov decided to proclaim March 1st as the International Day of Good Luck (http://www.goodluckday.org/). The next step is to spread the word and encourage people around the world to join him in his mission, "How many people believe in Good Luck? How many people NEED Good Luck? How many people want to SHARE their Good Luck? Those are the people I want to reach with this message."
Kolarov has created a public group for everyone on Facebook, and is eager to receive feedback from Facebook members of all ages.
Why March 1st?
Traditionally March is considered in many cultures the month when winter turns into spring, when life returns and the eternal hope for better flourishes. This is the perfect time to celebrate Hope, Good Luck, Joy, Health and Long Life. It is also the perfect opportunity to invest in our hope for the future -- our children.
How celebrating Good Luck Day (March 1st) helps children
Share your Good Luck and kelp kids in dire need. Kolarov has set up a Facebook Cause and encourages people to donate to Children International, a nonprofit worldwide humanitarian organization serving needy children and their families since 1936. He has also donated original designs, sold through CafePress with all profits donated to children's organizations.
If you are a company or charity organization interested in celebrating Good Luck Day and helping our kids, please contact Vlad Kolarov at toonz(at)etoon(dot)com.
About Vlad Kolarov:
Vlad Kolarov started his professional cartooning career in 1989. After working as a freelancing artist, in 1991 he became a cartoonist for the biggest Bulgarian daily newspaper "24 hours". Several years later he moved to Vancouver, BC with his family. His cartoons and illustrations have been published internationally.
Other Vlad Kolarov's web sites:
http://www.evlad.com/ -- humorous illustration portfolio
http://www.etoon.com/ -- cartoon licensing services
http://www.goodluckpuppy.com/ -- Good Luck Puppy
Celebrate GOOD LUCK DAY - March 1st – Facebook Group and Cause
http://www.facebook.com/group.php?v=info&ref=ts&gid=335423750375
http://apps.facebook.com/causes/448977
###