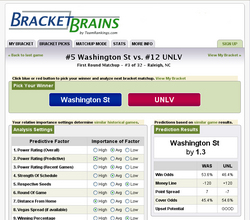 Sports fans today are aware of the power of sophisticated data analysis and the perils of relying on conventional wisdom
Palo Alto, California (PRWEB) March 7, 2008
TeamRankings.com today announced data-driven content and tools for advanced analysis of the 2008 NCAA basketball tournament and conference tournament games.
"Using our web site, college basketball fans and journalists can examine March Madness matchups using the same level of cutting-edge data analysis employed by professional sports teams and Vegas odds makers," explained TeamRankings.com co-founder and CEO Thomas Federico. "We take highly sophisticated statistical technology and make it accessible, actionable, and easy to use, even for people who can't tell a square root from a second derivative."
TeamRankings.com's unique March Madness content, available today, includes:

BracketBrains 2008, an interactive web application that uses more than a decade of historical NCAA tournament data and advanced predictive algorithms to break down any hypothetical March Madness game
2008 NCAA Tournament Round-by-Round Odds, which leverage proprietary power ratings to forecast the percentage odds for each team to survive each successive NCAA tournament round
2008 NCAA Conference Tournament Round-by-Round Odds, which apply similar methods to each of the major NCAA conference tournaments
A comprehensive assortment of unique, quantitatively derived rankings and statistics, including away and neutral site power ratings
Daily blogging and research-based articles on NCAA tournament matchups, bracket picking, and wagering strategies
Created by Stanford University mathematicians and engineers, TeamRankings.com has helped thousands of NCAA basketball fans get an edge over their competition during March Madness. The company's surveys show that on average, more than 22% of BracketBrains users win prizes in at least one bracket pool every year. BracketBrains users also pick NCAA tournament winners more accurately than the collective wisdom of the millions of users of Yahoo!'s popular online bracket pool contest.
"Sports fans today are aware of the power of sophisticated data analysis and the perils of relying on conventional wisdom," said Federico. "They've read books like Moneyball and Freakonomics, and they want to apply similar techniques to managing their bracket picks, fantasy teams, and wagers. We give them the tools and information they need to do it, without taking the fun out of the process."
"Data-driven approaches work, and we have the results to prove it," said co-founder Mike Greenfield. "Our power ratings consistently predict future performance better than less sophisticated, mainstream statistics like RPI ratings or winning percentages. At the end of the day, you can go get a Ph.D. in math and spend years developing and refining your own systems for analyzing March Madness tournament games, or you can just use TeamRankings.com."
Press Contact
Zenobia Godschalk
678.799.8279
zenobia@zagcommunications.com
# # #