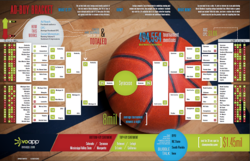 "The March Madness Ad-Buy Bracket is a great representation of how EvoApp helps marketers find the ROI of social media." - Joe Davy, Co-Founder and Chief Product Officer at EvoApp.
Durham, NC (PRWEB) March 25, 2012
The NCAA tournament is one of America's top sporting events, with just over 50 million unique viewers in 2011. Using their social media business intelligence tools to analyze online conversations surrounding March Madness, EvoApp created an infographic to help marketers understand which university fan-base will net companies the biggest ROI on their marketing investments. Social media data from March 7th – March 15th, 2012 was used in this particular analysis.
It costs top dollar to run an advertisement during one of the games, especially in the later rounds and national championship ($1.5 million for a 30 second TV slot in the championship game). High performance advertising (CPC) rates are also prevalent on digital channels like Facebook, especially for ads targeting fans of top-performing schools. Usually an expensive process, EvoApp created the Ad-Buy Bracket as a free resource to help marketers better target their advertisements.
Here are the metrics EvoApp analysts used to put together the Ad-Buy Bracket:
Social Momentum
To get social momentum, analysts multiplied running average volume and running average follower count (of total authors of tweets about each team) for each university, weighting the final result with running average sentiment. To maintain a clean data set, only mentions containing "March Madness" or "#MarchMadness" were used. This removed the possibility of bad or misleading data.
Reach
Reach represents audience sizes from Facebook. This score reflects the size of the fan-base of a particular university, filtered by interests. A "ten" represents the highest reach, while a "one" represents the lowest. Facebook was used because it offers the most advanced ad targeting among social platforms.
CPC
CPC is average cost-per click to run an ad targeting the fan base of a particular team. A "ten" represents the best deal (or lowest CPC), a "one" represents the worst deal (or highest CPC).
"We thought it would be cool to apply Social BI tools to something we love at EvoApp; college basketball" says Joe Davy, Co-Founder and Chief Product Officer at EvoApp. "The March Madness Ad-Buy Bracket is a great representation of how EvoApp helps marketers find the ROI of social media."
Syracuse, of all the other schools analyzed during this time period, had the broadest and most influential audience for their games and the highest social media exposure. Combined with their overall reach and reasonable cost-per-click scores, Syracuse games represent the most efficient advertising option for companies running ads targeting March Madness fans.
About EvoApp
EvoApp makes analyzing big data easy by finding the patterns in relevant conversations that impact business decisions.
The company's real-time data mining and analysis platform gives big data meaning by correlating with metrics that drive businesses. EvoApp has helped customers quadruple lead generation, dramatically improve customer service, find the language that makes them six times more relevant to their target audience, and accelerate product launches.
Connecting big data with business metrics provides new and better ways to answer the questions critical to success. EvoApp makes big data actionable with a scalable analysis platform previously only available to the largest institutions. More information is available at http://www.evoapp.com.
Some of EvoApp's customers include ABB, RTI, Bandwidth.com and Teleflex, as well as a number of the Fortune 500.