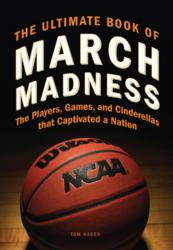 Minneapolis, MN (PRWEB) January 29, 2013
Perfectly timed for your coverage of the run up to the NCAA men's basketball tournament is the new book, "The Ultimate Book of March Madness" by Tom Hager.
This ultimate reference to America's most exciting annual sports event not only presents the year-by-year history of the tournament, but author Hager selects and ranks the 100 greatest games from tournament history. Hager interviewed nearly 200 former players and coaches to explore the tension, the strategy, and even the behind-the-scenes humor from more than 70 years of March Madness.
Featuring a unique blend of storytelling, quotes, vintage photographs, and game descriptions, "The Ultimate Book of March Madness" will provide you and your audience with much to talk and read about as the season and tournament head toward the Final Four.
Spur the conversation and enhance your coverage: the author is available for interviews, and review copies are available by request.
About the Author:
Tom Hager has been an NCAA basketball fan since he was a kid when he was enraptured by the 1996 Final Four contest between UMass and Kentucky. He has since been a sportswriter with several newspapers, Rushthecourt.net and currently covers the Washington State football and basketball for the Moscow Pullman Daily News in Moscow, ID
About the Publisher:
MVP Books publishes quality books for enthusiasts on a wide range of sports and fitness topics, from baseball and football to surfing and basketball. These include extensive team histories as large-format giftbooks, reference books, narratives and memoirs.
###