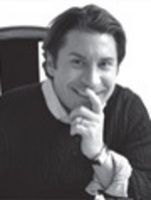 You're used to seeing professionals on TV who look effortless and natural. Only when an amateur gets in front of the camera do you get an idea of how tough it is to be good television.
New York, NY (Vocus) October 29, 2009
It's estimated that about 1 in 4 Americans has been on television in one form or another. With cable channels multiplying rapidly, reality television's clear programming dominance, and average households clocking more than 5 hours of television per day, it's never been easier to get yourself on television.
But are you sure that's a very good idea?
New York publicity expert Marco Larsen likes to remind his clients - "You're used to seeing professionals on TV who look effortless and natural. Only when an amateur gets in front of the camera do you get an idea of how tough it is to be good television."
Still, we all want to share ourselves with the world. And whether this means being interviewed by a local news station, appearing as a contestant on a game show, or hot-tubbing in the next season of "The Real World", there are a number of simple ways to make the most of your 15 minutes of fame.
Larsen has seen a wide range of media appearances, from the fabulous to the failures, and in his book DON'T: the essential guide to publicity in New York City (and any other city that matters) he shares basic industry advice that will have you cozying up to the camera in no time.
A few selected on-air no-no's, and what you should be doing instead:

DON'T wear white - "On TV you're always seen before you're heard," Larsen cautions. Even before they hear anything about you the viewers at home are swiftly deciding if you're worth listening to, and your appearance has everything to do with it. This means no white shirts (they wash you out), no crazy patterns (they draw attention away from your face), and for god's sake comb your hair.
DON'T be a deer in headlights - If you really pay attention to people on television, they very rarely look at the camera. While a host will address the audience directly by speaking to a camera, all of the guests speak to the host. Of course having a camera shoved in your face instantly creates an intense desire to look at it, but you must resist that urge at the risk of looking stranded and panicked. Unless specifically instructed to do to (like on a webconference style CNBC show), just talk to the host and you'll be fine.
DON'T go in cold - Why do you think every media savvy person, when ambushed with an on camera interview, says "no comment"? Once a sound byte gets recorded, it's eternity. Thus, it behooves you to know what you'd like to say. Perfectly rehearsed monologues aren't necessary (and frankly look stale and boring), but do plan out bullet points of things you'd like to talk about. Stammering into awkward pauses is the easiest way to get the producers to call in the proverbial canes to yank you off screen.
DON'T forget to act - If you've got on a nice basic colored shirt and your hair is kempt, the next chance you have to turn off an audience is with your physical demeanor. Viewers like to watch people who look active, interesting, and engaged. Sure, you're nervous, but lean forward, nod, even smile a little. No need for melodrama, but a happy expressive face is one we all like tuning in to.
DON'T throw up on Fox News - Larsen tells the story of a client, about to be interviewed on a national morning show, whose nerves got the better of him and whose stomach betrayed him just moments before he went live. "I should have been serving the guy wheat grass and OJ, not lighting his cigarette and ordering more lattes." Not to worry, the interview was a success in spite of gastric pyrotechnics, but wouldn't you rather skip the drama? Take care of yourself before an interview, starting with a good night's sleep and staying fresh with plenty of water and a reasonably fortifying breakfast.
You've got a pretty solid shot of landing in front of a television camera (and if that isn't good enough for you, try surfing casting websites or combing a media sourcing service like HARO). Keeping just these few tips in mind, you should be well prepared to make the most of your moment in the spotlight.
Of course it helps to actually know what you're talking about, too.
To that, Larsen says, "Give me a call. We'll figure something out."
About Marco Larsen:
Mr. Larsen founded the firm, P U B L I C, nyc in 2007 - a boutique public relations firm in Manhattan that caters to a number of high profile clients, from Fortune 100 Financial Services to private aviation and independent film studios.
P U B L I C, nyc has developed a brand of public relations called "bespoke publicity" - a highly tailored approach to media outreach.
###