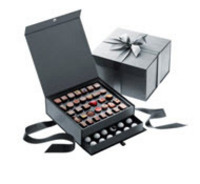 We want the dream to linger without losing any of its magic.
(PRWEB) October 26, 2010
Pierre Marcolini is Belgium's only and one of Europe's few chocolate makers to handle the whole process from cocoa bean to the finished chocolates. He scours the world in search of exceptional grand crus, which he combines with ingredients of a rare delicacy. You can now discover the fruit of his perfectionism and let others enjoy it, too, through his new on-line store. The Pierre Marcolini E-Boutique went on-line on 1st October 2010. Its exclusive range can be shipped to England, France and Belgium.
Chocolate lovers will assemble their own box of chocolates by choosing trays inspired by Pierre Marcolini's permanent or ephemeral collections. With a click, they will slide their trays into one of the two new boxes specially designed for the E-boutique and, if they wish, add a personal touch with a note and a ribbon. Create your own chocolate gift box through Pierre Marcolinis' online chocolate box configurator.
Pierre Marcolini's well-known perfectionism is extended to all his products ordered on-line. Pick your favourite taste out of our online chocolate shop suggestions of fine chocolate. The chocolates are given the same tender loving care and the boxes are designed to preserve the quality of their taste and smell. New temperature-controlled packaging has been developed so your chocolates will be delivered at the ideal temperature for an extraordinary taste experience.
You can also follow Pierre Marcolini on Twitter and on the Official Facebook Page.
"Internet is above all an opportunity to share my passion with people who cannot go to one of our stores. We want the dream to linger without losing any of its magic." Pierre Marcolini.
###