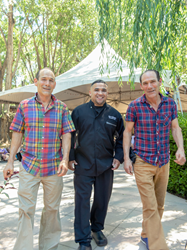 Chef Marc will be our front man leading El Pinto's journey to provide healthy and clean New Mexican cuisine.
Albuquerque, New Mexico (PRWEB) August 08, 2016
Iconic El Pinto Restaurant & Cantina is announcing Marc Quiñones as its Executive Chef. Chef Marc brings more than a decade of top-flight culinary expertise to his new role at El Pinto, having previously shaped menus at popular hotel and resort restaurants in some of the New Mexico's favorite tourist destinations.
"Chef Marc is very talented and we are excited to pair his talent with El Pinto's heritage," said Jim Thomas, co-owner of El Pinto. "His wealth of experience, understanding of New Mexican tradition, as well as his commitment to sourcing the best in seasonal ingredients makes him the perfect fit."
Co-owner John Thomas continues, "Marc will be our front man leading El Pinto's journey to provide healthy and clean New Mexican cuisine."
When it comes to pleasing the palates of El Pinto diners, Chef Marc stated, "It is an honor to go back to my roots in Albuquerque at El Pinto where I began my career to lead this historic establishment into the future. There is great opportunity here to introduce some new ideas using high-quality seasonal produce and creative nightly specials. We are poised at El Pinto to put a twist on the traditional."
Marc enters the Albuquerque food scene from Santa Fe, New Mexico, where his fresh approach to local flavor delighted diners at the Four Diamond Luminaria, at The Inn and Spa at Loretto. Prior to his tenure there, Marc lead the Four Diamond Sandia Resort and Casino in Albuquerque, New Mexico. Chef Marc has more than 12 years of experience in the restaurant and food industry and is a graduate of the Scottsdale Culinary Institute in Arizona. He was a finalist on Food Network's "Cutthroat Kitchen" and a New Mexico Chef of the Year finalist.
Chef Marc will manage and oversee a team of over 50 employees at El Pinto. "As executive chef, I also look forward to mentoring my team of incredibly talented employees and help them thrive in their careers," he says.
Marc will launch an all-new Sunday Brunch menu, holiday menu, and one-of-a-kind Chef's Table. "We want to maintain tradition while we innovate," said Marc. "We will be providing our guests more of what they love while we inspire with clean and distinctive New Mexican cuisine."
Over the 54 year tradition of El Pinto, the restaurant has helped to put New Mexican cuisine on the map as it has prepared green chile based cuisine within the White House presidential kitchen and provided "take-out" direct to Air Force One on the tarmac in Albuquerque. In addition to serving presidents, cabinet secretaries and military generals, local residents continue to independently voted El Pinto Restaurant the Best New Mexican Restaurant for multiple years running as well as its patios as the Best in the City in the annual Albuquerque The Magazine readers poll. El Pinto's Red Chile Ribs were named in Food Network's Top 5 Restaurants as the #3 ribs in the nation.
About El Pinto Restaurant & Salsa Co:
Established 54 years ago, El Pinto is a quintessential icon for New Mexican cuisine. Conveniently located in the North Valley of Albuquerque just off I-25, the serene patios located under beautiful cottonwood trees provide an iconic experience. El Pinto is known nationally for its fire-roasted green chile and fresh flavorful salsa distributed across the nation in local grocery stores. The salsa and green chile factory is located on the same grounds as the restaurant. For an authentic taste of New Mexico, visit El Pinto for its fresh iconic food, traditional margaritas, and award winning chile. http://www.elpinto.com